By Orin Day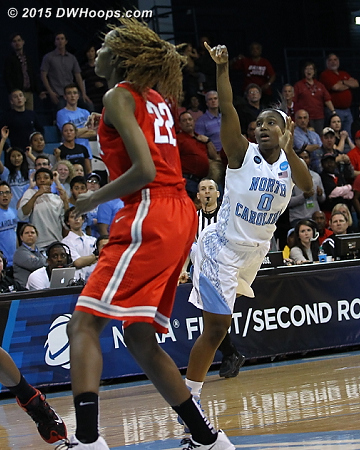 Jamie Cherry hits the game winner for UNC.
Photos by Orin Day - Full Gallery Below
CHAPEL HILL -- North Carolina advanced to their second straight NCAA Sweet Sixteen in dramatic fashion as yet another Jamie Cherry postseason buzzer beater bailed out the Tar Heels. Carolina led by 18 at halftime and as much as 23, but Ohio State took advantage of 14 second half Tar Heel turnovers to whittle that lead away. The Buckeyes finally tied the game with a clutch Kelsey Mitchell three pointer with 39 seconds on the clock. UNC took the lead back with a hoop by Latifah Coleman but gave it right back by fouling Mitchell in the paint with 5 seconds remaining. That set the stage for Cherry's dramatic shot which, unlike her shot to force overtime in the ACC Tournament vs. Louisville, was a two point bucket. Ohio State still had one second left, but failed to get a shot off, resulting in a huge celebration by the victors (pictured below).
Stephanie Mavunga led the Heels with 27 points (18 before the break) and 14 rebounds. Other notable scorers were Allisha Gray (20) and Brittany Rountree (15) for Carolina, while Ohio State's Ameryst Alson led all scorers with 30 (17 in the second half). Ohio State concludes their season at 24-11 while Carolina moves on to face #1 seeded South Carolina on Friday evening in the Greensboro Regional. Much like Duke, who also advanced to the Sweet Sixteen as a homestanding four seed, Carolina couldn't put two good halves together all weekend, but found a way to win. And at this time of the season, that's all that matters.

DWHoops Photos by Orin Day
---
---
---
Support ACC WBB Digest! - Help Fund Our Future Coverage
---
---
---
---
Support ACC WBB Digest! - Help Fund Our Future Coverage
---
---
---
---
Support ACC WBB Digest! - Help Fund Our Future Coverage
---
---
---
---
Support ACC WBB Digest! - Help Fund Our Future Coverage
---
---
---
---
Support ACC WBB Digest! - Help Fund Our Future Coverage
---
---
---
---
Support ACC WBB Digest! - Help Fund Our Future Coverage
---
---
---
---
Support ACC WBB Digest! - Help Fund Our Future Coverage
---
---