By Rob Clough, Photos by Orin Day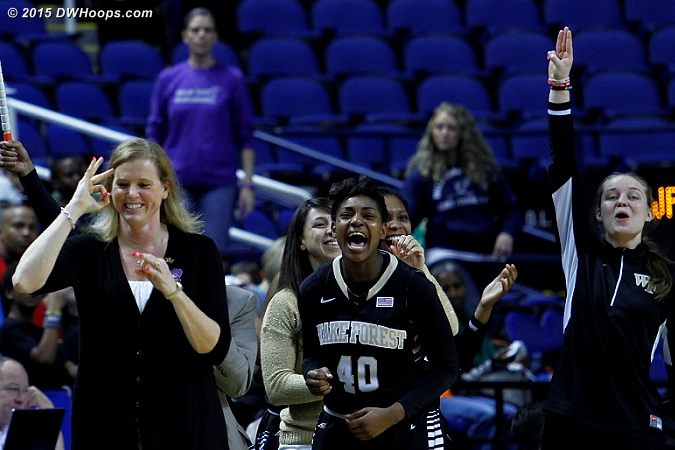 The Wake Forest bench celebrates one of four three pointers by Millesa Calicott during their 85-79 upset win over Syracuse. The Deacs advance to face Duke at 11:00 AM Friday.
Photo by Orin Day - Full Gallery Below
Please Support our Sponsor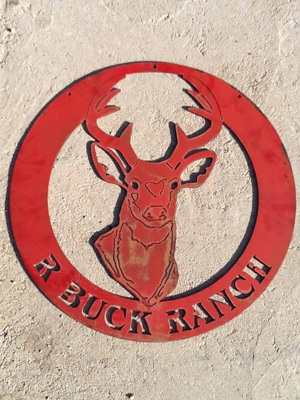 Click here to learn more about R Buck Ranch. Owned and operated by women's hoops fans, they offer premium hunting and fishing in the Heart of Texas!
---
Support ACC WBB Digest!
Please Help Fund Our Future Coverage


GREENSBORO -- Wake Forest knocked off a higher seed for the second straight day, defeating #5 seed Syracuse 85-79. The Deacs trailed at the half by three, mostly thanks to Syracuse's pressure resulting in turnovers. In the second half, Wake star forward Dearica Hamby played her usual excellent game, but she got a lot of help from her heretofore inconsistent teammates. Exhibit A: shooter Millesa Calicott, who had 14 points on 4-5 shooting from long range, including several clutch shots down the stretch. Exhibit B: Kandice "Daisy" Ball, the career role player who suddenly looked like a post dominator with a 14-point, 8 rebound performance. That allowed Hamby a remarkable amount of room to operate down low, and she didn't disappoint with a huge scoring performance. She's already Wake's all-time leading scorer, and she'll be gunning for the rebounding record (she needs two more to pass current head coach Jen Hoover) against Duke.
Wake cleaned up its turnovers in the second half and started to gain confidence as the Orange couldn't build a lead. A 20-5 Wake run astoundingly gave them a fifteen point lead with seven minutes left. The Deacs held the Orange at arm's length for five minutes until a furious 11-2 run brought them within a single possession. The Deacs went 4-4 from the foul line down the stretch and coolly dealt with the Orange press, scoring a huge upset. Wake won just two league games the entire season and has now equaled that amount in the span of 24 hours.
Top Performers
Dearica Hamby, Wake Forest: 23 points, 10 rebounds, 2 assists. The All-ACC performer had another efficient game, picking her spots and finding gaps in the Orange defense.


Alexis Peterson, Syracuse : 34 points, 3 rebounds, 2 assists, 3 steals. Peterson was a one-woman gang and had a lot to do with the Orange almost coming back.


Amber Campbell, Wake Forest: 21 points, 4 rebounds, 5 steals. Campbell was tough at both ends, hitting several tough jumpers in transition as well as tough defense on Brianna Butler.


Game Analysis
Why Wake Forest Won: They got to the foul line 25 times, they shot an amazing 54%, and they hit seven treys in support of the usual outstanding performance from Hamby.
Why Syracuse Lost: Starting center Briana Day fouled out after having played just thirteen minutes, allowing Hamby a lot of freedom to operate inside. Combine that with 6-26 shooting from three, and you have a team that didn't have an easy time scoring.
The Game Turned When...: The Deacons went on a 20-5 run in the second half. Even a technical foul on Syracuse coach Quentin Hillsman didn't fire up a lethargic Syracuse squad until it was far too late. Meanwhile, the Deacs looked like the team that was going to go to the NCAA tournament, instead of the Orange.
X-Factor: Kandice Ball. Her sweeping hook shots, excellent defense and tough rebounding gave Hamby the help she needed in the post.
Key Stat: 39-29. That was Wake Forest's rebounding advantage over Syracuse, and it was one of the few things that got them extra possessions. Fortunately, Wake shot well enough not to need many more possessions than the Orange, but for a team that hasn't rebounded well most of the year, this was crucial.
Areas for Improvement: The Orange never committed to getting the ball inside, allowing Wake to apply heavy pressure on their shooters. Wake's poor point guard play nearly got them in big trouble at various points.
Ramifications: The Orange lost out on a chance to host an NCAA tournament game with this loss. Wake continues their improbable bid for an ACC championship against a weakened Duke team.
DWHoops Photos by Orin Day
Edited photos are available now, and we'll add captions and tags as time permits.
---
---
---
Support ACC WBB Digest! - Help Fund Our Future Coverage
---
---
---
---
Support ACC WBB Digest! - Help Fund Our Future Coverage
---
---
---
---
Support ACC WBB Digest! - Help Fund Our Future Coverage
---
---
---
---
Support ACC WBB Digest! - Help Fund Our Future Coverage
---
---
---
---
Support ACC WBB Digest! - Help Fund Our Future Coverage
---
---
---
---
Support ACC WBB Digest! - Help Fund Our Future Coverage
---
---