By Rob Clough



While Notre Dame is still atop the ACC standings at the midway mark, there's no question that the ACC is far more competitive this season than expected. The huge influx of frosh and relatively weak senior classes have made the ACC unpredictable, as younger players tend to be less consistent but also show a great capacity for improvement. Squads like Duke, Clemson and Pitt have multiple frosh starters, but every team has at least freshman of note.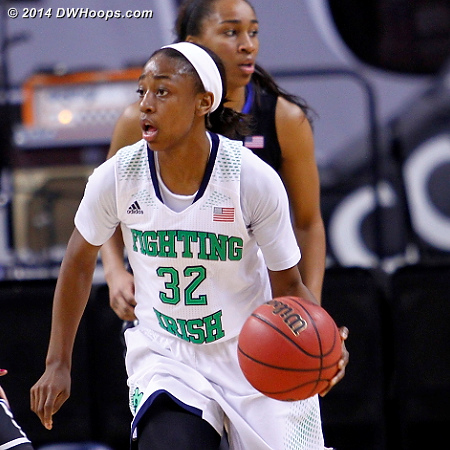 Notre Dame guard Jewell Loyd is the Digest pick for Midseason ACC Player of the Year.
Digest File Photo by Orin Day

At the top of the league, Notre Dame and Florida State are tied at 8-1, with the Irish narrowly defeating the Noles. Notre Dame still has Jewell Loyd (our pick for Midseason Player of the Year) and having the best player in the country means everyone else has to try a little harder to beat them. The Irish have had a little instability of their own, as they've taken a while to adjust to the low-post, ball-stopping game of superfrosh Brianna Turner and the temporary absence of post Taya Reimer. FSU is a team built on transfers that have somehow quickly come together into a squad with few weaknesses.

Duke and new member Louisville are tied at 7-2. Both teams incurred heavy offseason personnel losses, with Duke suffering a couple more this season to reduce their roster to just eight recruited scholarship players. The Cardinals' incredibly young team has been aggressive and physical, especially at home, but their loss to Duke on the road gives the Blue Devils that particular tiebreaker for now.

UNC, Miami, Syracuse, Virginia and Pitt are all in the mix for an NCAA bid. Miami got a huge win against Notre Dame with another unconventional roster. UNC had ambitions to win the regular season that were set back when they lost starter Xylina McDaniel. The Orange are still trying to get a victory over an elite squad, though they did knock off UNC for a second straight season. Meanwhile, while Pitt has risen from the ashes with their young squad to become a contender.

NC State and Georgia Tech will likely play somewhere in the postseason, but unless they go on a hot streak and pick up some wins against ranked conference members, it probably won't be the NCAA tournament. At the bottom of the league are Clemson, Wake Forest, Boston College and Virginia Tech. Only BC has broken through with a win against a higher-rung team in Duke, but all four teams have proven to be competitive on any given night. Though there have certainly been the expected blowouts, the inconsistency of youth has meant that bad teams have hung in there against good teams with young players who weren't ready to play. Wins on the road have been especially scarce, as youngsters often have trouble maintaining their focus while traveling.

2015 ACC WBB Digest Midseason Honors


All-ACC Selections
Jewell Loyd, Notre Dame
Elizabeth Williams, Duke
Adrienne Motley, Miami
Adut Bulgak, Florida State
Brianna Kiesel, Pitt

ACC All-Rookie Team
Brianna Turner, Notre Dame
Azura' Stevens, Duke
Rebecca Greenwell, Duke
Dominique Wilson, NC State
Mariya Moore, Louisville
Team Updates:
Boston College: The Eagles' lack of size and quickness has made this yet another struggle of a season, but their huge upset over Duke offered them hope. This is a team that loves to shoot the three, and when they do so with confidence, they are dangerous. Kelly Hughes, Emilee Dailey and Nicole Boudreau in particular are the top guns on the team, but lots of other players have proven capable as well. We'll see if that win can offer this team some confidence down the stretch and in the ACC tournament.
Clemson: Second year coach Audra Smith pretty much tossed out everyone and brought in an entirely new team, with the exception of mainstays Nikki Dixon (now their sixth woman) and Chelsea Lindsay. Some of the frosh have been solid, but this team has been too young and too small to compete with most ACC teams. Dixon has been heroic in trying to carry her young teammates, but it's been a struggle.
Duke: The Devils were already one of the youngest teams in the ACC, but multiple injuries/player defections have cut the roster down to just eight recruited players. Frosh Rebecca Greenwell and Azura' Stevens are among the team's leaders in scoring and rebounding, while seniors Elizabeth Williams & Amber Henson anchor the squad in the post and perimeter, respectively. This is a huge team susceptible to turnover trouble because of its lack of a true lead guard, but their tough schedule has hardened them a bit. They're vulnerable to sharpshooting perimeter teams but can give a lot of other types of teams a great deal of trouble.
Florida State:: I knew in the preseason that this team had a chance to make some noise, and that's certainly been the case as they're tied for first place in the ACC. The Noles have somehow come together despite having to integrate five transfer players into a fairly young lineup. The results have been spectacular, as junior college transfer center Adut Bulgak has scored inside and out and defended the rim, Kentucky transfer Maegan Conwright has done a fine job shooting and at point, and Kansas State transfer Leticia Romero has been a fabulous glue player. This is a deep team built for postseason play, and frosh forward Shakayla Thomas has barged into the rotation and played heavy minutes when other players went down with minor injuries.
Georgia Tech: The Jackets are struggling to stay relevant after an injury to starting guard Sydney Wallace. Kaela Davis is still a scoring machine and frosh wing Zaire O'Neil has stepped into Wallace's role nicely, but the Jackets are thin and have no post presence. They'll need to pull an upset or two if they want to go to the NCAA tournament.
Louisville The extremely young Cards are led by frosh Mariya Moore and Myisha Hines-Allen, who join senior Sara Hammond to form a powerful offensive unit. Louisville has yet to pick up a great win, however; Syracuse and Iowa are the closest things as of this writing. They still have UNC and Notre Dame left to build a stronger resume and stay in the hunt for a top-four seed in the ACC tournament. Given their personnel losses after 2014, anything they accomplish this year is pretty much gravy.
Miami: Perhaps the weirdest team in the ACC, the Canes get it done with a single superstar-level player in Adrienne Motley, rim protector Jassany Williams and a whole bunch of interchangeable wings and guards. This team loves to run and attack the rim, and they have shooters as well. There's not a lot of size beyond Williams and they can be lured into jacking up shots, but this is the only team to take down Notre Dame during their tenure in the ACC.
North Carolina: The Heels are hanging in there despite the loss of McDaniel, as undersized center Stephanie Mavunga has had an especially excellent season. The Heels are quick as usual, have solid (but not spectacular) point guard play from Latifah Coleman and frosh Jamie Cherry, and have a truly lethal scorer in Allisha Gray. Still, the Heels are vulnerable to big teams and on the boards in general, but when their threes are falling and their press is effective, this is a team no one wants to play. They are certainly battle-hardened, having played a great preseason schedule and already many tough ACC foes.
North Carolina State: After a solid season last year, the Pack are very much holding on by their fingernails in a rebuilding year. Thanks to coach Wes Moore, they haven't fallen apart and have a good shot at a WNIT bid, but this isn't a team that's going to beat a lot of the top squads in the ACC. Still, thanks to frosh Dominique Wilson and several other solid players, the Pack are always a threat to give teams a hard time if they're shooting well. Their lack of size leaves them an unbalanced squad, however.
Notre Dame: Other than a slip against Pitt, the Irish continue their mastery of the ACC. However, they aren't quite the smooth-running machine of the past few seasons, the one where the ball flows freely from player to player. That's partly because masterful screen-setter Natalie Achonwa and guard Kayla McBride are gone, and they've been replaced by post-up specialist Brianna Turner. Turner is a tremendous talent, but she's also a ball-stopper. It must be said that the Irish lost when Taya Reimer was out for a game due to personal issues; when she returned, the Irish have not lost since. Notre Dame still has games with Duke and Louisville left on their schedule, but they're certainly on track to go back-to-back as ACC champs.
Pitt: The Panthers start three frosh and an ex-volleyball player who's a grad student, and yet have become relevant in the ACC this season. They have a good chance at finishing 8-8 in the league and even earning an NCAA berth, especially if they pull another upset or two. They've already knocked off UNC and have a good chance at competing with Syracuse and Virginia. Point guard Brianna Kiesel has become one of the best players in the ACC, especially now that she's got a group of good players surrounding her. The biggest story has been that volleyball player, Monica Wignot, a bouncy forward who can also shoot. Pitt is limited in terms of its bench and a lack of size, but they continue to improve and will be an annoying out in the ACC tournament.
Syracuse: Despite the loss of Brittney Sykes, the Orange have plugged in transfer Diamond Henderson and have seen a number of players improve. Alexis Peterson has become one of the top scorers in the ACC, Brianna Day has become a steady post scorer/rebounder, and Brianna Butler continues to be a defense-stretching shooter. Where they miss Sykes is in having that star-power kind of player who can take over a game during crunch time. That's what leaves the Orange a step behind the other league powers.
Virginia: The Hoos are another team hanging on by their fingernails, hoping to clinch an NCAA spot. Other than Ohio State, they don't have any good wins, and Georgia Tech was a bad loss. Their RPI of 92 reflects that they have work to do. They have a chance to prove it on the court with upcoming dates against Notre Dame, Duke, FSU, PItt and Louisville. Either they'll get it done and head to the NCAAs or else they will be heading to the WNIT. They're leaning on frosh wing Mikayla Vinson pretty heavily, as well as guard Faith Randolph. Ultimately, the play of post Sarah Imovbioh will determine their fate against the league powers.
Virginia Tech: The Hokies lost frosh center Regan Magarity to injury early in the year. This turned a promising season into yet another losing disaster. The only reason they're even competitive is the one-two punch of soph point guard Vanessa Panousis and frosh wing Rachel Camp, a lightly-recruited player who's been a scoring machine for the Hokies.
Wake Forest: The Deacs are built around a bunch of young shooters and senior post Dearica Hamby, who's a walking double-double. A lack of experience, skilled size and consistent shooting as well as a porous defense and ballhandling trouble have led to struggles for Wake. However, like with many teams in the league, they have that one scary player in Hamby who could go off on any night and help pull an upset.
Join the Digest in March for our full coverage of the 2015 ACC Tournament!