By Rob Clough, Photos by Orin Day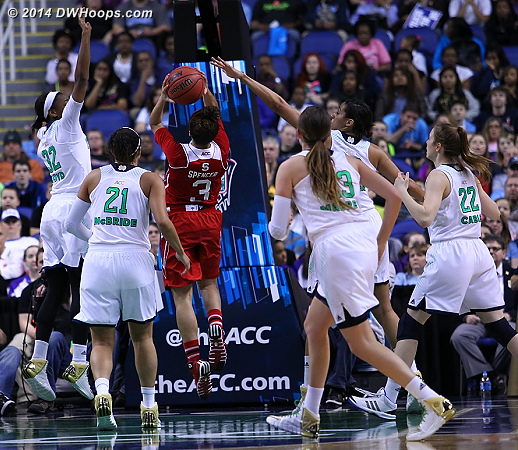 The Notre Dame defense collapsed on Miah Spencer and the NC State Wolfpack Women, ending their ACC Tournament with an 83-48 drubbing.
Photo by Orin Day - Full Gallery Below
Support ACC WBB Digest!
Please Help Fund Our Future Coverage


The brutally ruthless basketball machine called the Notre Dame Fighting Irish claimed another victim in Greensboro, as they mauled a depleted NC State squad 83-48. The Irish (31-0, which is the longest winning streak in team history) wasted no time in establishing a huge lead over State (25-7), starting the game on a 12-0 run. Jewell Loyd and Ariel Braker scored the team's first eight points on steals, hustle plays, and stickbacks. Notre Dame's effort on the offensive boards took advantage of the fact that State center Markeisha Gatling sat out this game with what is being called a bruised knee. The word was that she might have been able to hobble out there and play a few minutes, but this was a scenario where that didn't make sense. Of course, she was the one player who presented a matchup problem for the Irish, and her absence. That in addition to State already having lost Myisha Goodwin-Coleman and Lakeesa Daniel to ACL injuries had State playing with one arm behind their metaphorical backs.
State stayed within twelve for a few minutes, but the Irish concentrated on attacking the basket and naturally hit six foul shots in a row. Guard Michaela Mabrey drained a three as the Irish quickly started rotating in their reserves, and a steal by McBride led to a beautifully-executed fast break as Loyd finished. That made it 35-15 with four minutes to go, and the Irish stretched that lead to 28 by halftime. The halftime stats were staggering. Notre Dame shot a solid but unremarkable 51%, but they held State to 25% and held a 13-0 edge in points off turnovers and a 10-0 edge in second chance points. Throw in a 17-3 advantage in bench points, and you have a recipe for total domination. Three NC State players picked up three fouls apiece as the Irish had a 19-0 edge in free throws attempted; the Pack didn't attempt one until the 9:51 mark of the second half.
In the second half, the Irish wasted no time in stretching the lead to thirty, as a refreshed McBride and Loyd immediately went to work hitting jump shots and going to the foul line. Six minutes into the half, the Irish went to their first line of reserves and mostly played their deep reserves at about the ten minute mark. Meanwhile, the Pack kept battling, cutting the lead from 37 to 31. The only question left in the game was whether they'd be able to exceed Notre Dame's first half scoring output, and they just barely made it -- scoring 48 points compared to 46 first half points for the Irish. Notre Dame certainly earned the right to an easy path to the final by dominating the league, but the fact that they got to play depleted squads in back-to-back games made things even easier for them.
Top Performers
Jewell Loyd, Notre Dame. 16 points, 6 rebounds. Loyd was her usual aggressive self, going 8-8 from the foul line.


Kayla McBride, Notre Dame.
10 points, 5 rebounds, 4 steals, 2 assists. This was another typically efficient game from the senior, who missed seven of eleven shots but impacted the game in other ways.


Michaela Mabrey, Notre Dame. 10 points. Mabrey was put on earth to do one thing: shoot textbook-perfect jump shots. That's just what she did against the Pack, where it was a shock when her shot didn't go in.


Game Analysis
Why Notre Dame Won: The Irish made few errors and never settled for jump shots against a smaller team that played man-to-man defense. Then they went out and hit 26-32 from the line, which made up for an otherwise average shooting performance. The Irish played superb defense, reducing State's offense to individual parts (just six assists) and they were +17 on the boards.
Why NC State Lost: The Pack weren't able to get good looks for Kody Burke, who was suffocated by the Irish defense to the tune of 1-8 shooting from the floor. Guards Miah Spencer and Len'Nique Brown battled as best as they could, but their diminutive size was a big matchup problem against the bigger Irish guards. Of course, not having their fulcrum on offense in Gatling made it impossible for them to really compete.
The Game Turned When...: The Irish began the game on a 12-0 run and then they followed that up with an 11-2 run to go up by 19 just twelve minutes into the contest. For the Pack, the only chance they had was to try to stay as even as possible in order to build confidence with this group, and they never had the opportunity.
X-Factor: Ariel Braker. The senior is a glue player who scored some early points and played excellent defense. She set a tone for her team and her overall unselfishness as a role player is one of the things that makes the Irish such a tough team.
Key Stat: 48-41. NC State had 48 points, while Notre Dame's bench had 41 points. That speaks to the excellence of Notre Dame's overall defense as well as how deep the Irish are.
Areas for Improvement: The Irish didn't shoot particularly well (43%), and they did wind up committing 19 fouls. State's biggest problem was their hesitancy in letting it fly when they got open shots early in the game. Notre Dame sensed that lack of confidence and seized on it to great effect. State's only chance was to shoot without conscience in this game, because contested or hesitant shots were only going to miss, and they wound up 4-20 from three.
Ramifications: Notre Dame continues what has been amazing season and has absolutely wrapped up a #1 seed in the NCAA tournament even if they lose to Duke in the final. They're one game away from becoming only the seventh team to win an ACC tournament. The Pack will spend the next couple of weeks hoping that Gatling recovers from her bone bruise and gets back on the floor. They will likely be a four or five seed, and they have the potential to make it to the Sweet Sixteen.
They Said It: "They read and react to how you defend. It's not so much a set play or anything like that. It's more once you make a decision how you want to defend, they've got a counter to it." -- NC State coach Wes Moore on why Notre Dame is so difficult to stop.
DWHoops Photos by Orin Day
Raw photos are available below. Captions and tags will be added as time permits.
---
---
---
Support ACC WBB Digest! - Help Fund Our Future Coverage
---
---
---
---
Support ACC WBB Digest! - Help Fund Our Future Coverage
---
---
---
---
Support ACC WBB Digest! - Help Fund Our Future Coverage
---
---
---
---
Support ACC WBB Digest! - Help Fund Our Future Coverage
---
---
---
---
Support ACC WBB Digest! - Help Fund Our Future Coverage
---
---
---
---
Support ACC WBB Digest! - Help Fund Our Future Coverage
---
---
---
---
Support ACC WBB Digest! - Help Fund Our Future Coverage
---
---
---
---
Support ACC WBB Digest! - Help Fund Our Future Coverage
---
---
---
---
Support ACC WBB Digest! - Help Fund Our Future Coverage
---
---
---
---
Support ACC WBB Digest! - Help Fund Our Future Coverage
---
---
---
---
Support ACC WBB Digest! - Help Fund Our Future Coverage
---
---
---
---
Support ACC WBB Digest! - Help Fund Our Future Coverage
---
---
---
---
Support ACC WBB Digest! - Help Fund Our Future Coverage
---
---
---
---
Support ACC WBB Digest! - Help Fund Our Future Coverage
---