By JP Mundy, Photos by Orin Day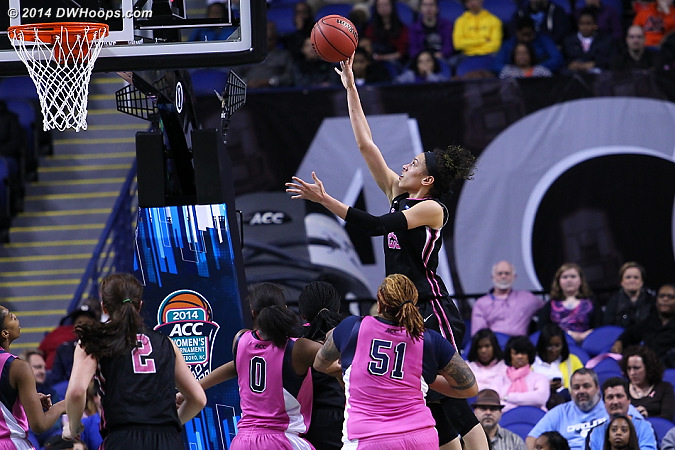 Dearica Hamby soared to 25 points and 16 rebounds as #11 seed Wake Forest wiped out #14 Pitt, 72-58.
Photo by Orin Day - Full Gallery Below
Support ACC WBB Digest!
Please Help Fund Our Future Coverage


Dearica Hamby scored 25 points and grabbed 16 rebounds to help lead Wake Forest over Pittsburgh 72-58 to close out the first round of the ACC Women's Basketball Tournament. Senior guard Chelsea Douglas added 20 points, including four three-pointers as she began her final ACC Tournament. The Deacs dominated the glass while limiting their own turnovers, and never trailed in the victory.
Pittsburgh was led by forward Asia Logan's 18 points and 12 rebounds, while Brianna Kiesel chipped in with 12 points. The Deacs held Pittsburgh to 35 percent shooting on the night, while shooting 47.4 percent from the floor. Wake's largest lead was 17, late in the second half. Neither team shot well from three, with the Panthers only making four of 19 attempts. Wake Forest made five three-pointers on 18 attempts.
Top Performers
Dearica Hamby, Wake Forest 25 points, 16 rebounds, 8 assists. Any worry of a "post-awards hangover" were quickly put to rest by the junior forward. Despite facing physical double and triple-teams, Hamby made key shot after key shot for the Deacs.


Chelsea Douglas, Wake Forest 20 points. Douglas looked ready to play in warm-ups, and showed no lingering effects from the sore foot that hampered her throughout the month of February.


Asia Logan, Pittsburgh 18 points, 12 rebounds. Logan was the lone bright spot for the Panthers, and the key reason why Wake didn't extend the lead even further.


Game Analysis
Why Wake Forest won: Rebounds, rebounds, and more rebounds. The Deacs out-rebounded Pitt by 14, and were bolstered by a nine-rebound performance from Kandice Ball.
Why Pitt lost: After playing the Deacs twice now, the Panthers still don't have an answer for Dearica Hamby. The only person in the building who could stop her proved to be Wake Forest coach Jen Hoover, giving Hamby a seat as she cleared her bench in the final minute.
The Game Turned When...: Chelsea Douglas caught fire in the first half, scoring 15 of her 20 points.
X-Factor: Freshman forward Milan Quinn made the most of her 16 minutes of playing time, scoring 8 points.
Key Stat: Ball's nine rebounds came with just 3 fouls, as staying on the court has been an issue at times for the sophomore forward.
Areas for Improvement: The Deacs won big, but need to improve on their 65 percent average from the free throw line, and cut down live ball turnovers (a fatal mistake against the running Heels). Pitt's 2014 campaign ends with the Panthers needing to find more talent at the level of Kiesel to compete in this league.
Ramifications: While Pittsburgh heads home, Wake Forest moves on to face North Carolina in the last game of the second round on Thursday. A win all but assures the Deacs of a berth in the WNIT, while a loss ends their season and Douglas' collegiate career.
They Said It: "This team's fought all year long. We've fought through some adversity, and it's made us stronger, I think, because of it." - Wake Forest head coach Jen Hoover
We encourage you to follow @JP_Mundy on Twitter.
DWHoops Photos by Orin Day
All photos have been tagged and captioned as appropriate. Check for your favorite player!
---
---
---
Support ACC WBB Digest! - Help Fund Our Future Coverage
---
---
Link to this Photo
Clean up top, foul down low

WAKE Tags: #2 Jill Brunori
PITT Tags: #0 Asia Logan
---
Link to this Photo
Another day at the office for Hamby - 25 points, 16 boards, 8 assists.

WAKE Tags: #25 Dearica Hamby
---
Support ACC WBB Digest! - Help Fund Our Future Coverage
---
---
Link to this Photo
ACCWBBDigest Photo

WAKE Tags: #2 Jill Brunori
PITT Tags: #14 Frederique Potvin
---
Link to this Photo
ACCWBBDigest Photo

WAKE Tags: #22 Keri Fulp
PITT Tags: #3 Brianna Kiesel

Link to this Photo
After dropping back to back threes, Virginia time out

WAKE Tags: #5 Chelsea Douglas
---
Support ACC WBB Digest! - Help Fund Our Future Coverage
---
Link to this Photo
Wake goes up 32-24

WAKE Tags: #15 Millesa Calicott
PITT Tags: #3 Brianna Kiesel
---
---
Link to this Photo
Wake goes up 10

WAKE Tags: #5 Chelsea Douglas
PITT Tags: #25 Brittany Gordon
---
Support ACC WBB Digest! - Help Fund Our Future Coverage
---
---
---
Link to this Photo
ACCWBBDigest Photo

WAKE Tags: #42 Kandice Ball
PITT Tags: #3 Brianna Kiesel, #25 Brittany Gordon
---
Support ACC WBB Digest! - Help Fund Our Future Coverage
| | | | | |
| --- | --- | --- | --- | --- |
| | | | | |
---
---
---
---
Support ACC WBB Digest! - Help Fund Our Future Coverage
---
Link to this Photo
ACCWBBDigest Photo

WAKE Tags: #2 Jill Brunori
PITT Tags: #13 Marquel Davis
---
---
---
Support ACC WBB Digest! - Help Fund Our Future Coverage
---
---
Link to this Photo
Depth was a great weapon for Wake

WAKE Tags: #32 Milan Quinn
PITT Tags: #23 Ashlee Anderson
---
---
Support ACC WBB Digest! - Help Fund Our Future Coverage
---
---
Link to this Photo
Quelling Pitt threat in the paint

WAKE Tags: #25 Dearica Hamby
PITT Tags: #51 Cora McManus

Link to this Photo
This didn't work so well

WAKE Tags: #5 Chelsea Douglas
PITT Tags: #3 Brianna Kiesel
---
---
Support ACC WBB Digest! - Help Fund Our Future Coverage
---
Link to this Photo
No answers for Hamby

WAKE Tags: #25 Dearica Hamby
PITT Tags: #51 Cora McManus
---
---
Link to this Photo
ACCWBBDigest Photo

WAKE Tags: #25 Dearica Hamby
PITT Tags: #0 Asia Logan
---
Support ACC WBB Digest! - Help Fund Our Future Coverage
| | | | | |
| --- | --- | --- | --- | --- |
| | | | | |
---
---
---
---
Support ACC WBB Digest! - Help Fund Our Future Coverage
---
Link to this Photo
ACCWBBDigest Photo

WAKE Tags: #4 Mykia Jones
PITT Tags: #25 Brittany Gordon
---
Link to this Photo
ACCWBBDigest Photo

WAKE Tags: #32 Milan Quinn
PITT Tags: #14 Frederique Potvin
---
---
Support ACC WBB Digest! - Help Fund Our Future Coverage
---
Link to this Photo
ACCWBBDigest Photo

WAKE Tags: #42 Kandice Ball
PITT Tags: #22 Chelsea Welch
---
---
---
Support ACC WBB Digest! - Help Fund Our Future Coverage
---
---
Link to this Photo
Potvin was 3-9 from distance including quite a few airballs, not her night

PITT Tags: #14 Frederique Potvin

Link to this Photo
ACCWBBDigest Photo

WAKE Tags: #2 Jill Brunori
PITT Tags: #22 Chelsea Welch
---
Link to this Photo
ACCWBBDigest Photo

WAKE Tags: #15 Millesa Calicott
PITT Tags: #0 Asia Logan
---
Support ACC WBB Digest! - Help Fund Our Future Coverage
---
---
---
Link to this Photo
And she showed us more than one reason why tonight

WAKE Tags: Wake Forest Fans
---
Support ACC WBB Digest! - Help Fund Our Future Coverage
---
---
Link to this Photo
Wake cleared their bench giving Susie Webster 36 seconds

WAKE Tags: #14 Susie Webster

Link to this Photo
Webster got just a great look but unfortunately it just missed

WAKE Tags: #14 Susie Webster
---
Link to this Photo
ACCWBBDigest Photo

WAKE Tags: #14 Susie Webster
PITT Tags: #23 Ashlee Anderson
---
Support ACC WBB Digest! - Help Fund Our Future Coverage
---