By Rob Clough, Photos by Orin Day



DWHoops and ACC Women's Basketball Digest present our 2014 ACC Tournament preview, in which we go team by team with players to watch, what to watch for, and what to expect. We will once again travel to Greensboro to cover all 15 games, including tagged photos of players from every team. So don't forget to check out our coverage each day, and if you're feeling generous, please support our work with a small contribution (links will be provided).


---
#15 Boston College 12-16, 3-11 ACC
Wednesday 3:30 PM vs. #10 Virginia
Players To Watch: Inside-outside post player Katie Zenevitch (#45), multitasking wing Kristen Doherty (#21), slender shooter Nicole Boudreau (#11).
What To Watch For: The Eagles have been ravaged by injury this year, and they weren't very deep to begin with. With no margin for error, those personnel losses turned into actual losses. That said, this is a team filled with three point shooters that has a puncher's chance of beating most teams in the tournament if their shots are falling. BC plays slow down basketball in an effort to shorten games and reduce the opponent's number of possessions. This is especially important because BC is a terrible rebounding and defensive outfit.
What To Expect: Virginia is a great matchup for BC; indeed, the Eagles beat the Hoos 69-65 earlier in the year. Virginia lacks the post play that can punish the Eagles' lack of size. A big question for this game will be whether Katie Zenevitch can play. She sat out Senior Night with a foot injury, and if she can't go against Virginia, then the Eagles will lose a significant advantage against the smallish Hoos. If Zenevitch can't play and the Hoos play solid perimeter defense, then the Eagles' season will end quickly. BC can certainly pull the upset if the erratic Hoos go through scoring droughts.
Boston College 2014 Most Outstanding Player Kristen Doherty
File Photo by Orin Day
---
#13 Clemson 12-18, 4-12 ACC
Wednesday 1pm vs. #12 Virginia Tech
Players To Watch: Slashing, multitasking guard Nikki Dixon (#21), jumping jack forward Quinyotta Pettaway (#12), shooter Kelly Gramlich (#5)
What To Watch For: Under new coach Audra Smith, the Tigers have managed to stay competitive, especially against their peers. With a full complement of players, they have some size, quickness and shooting. Their overall level of play can be sloppy at times, and the Tigers frequently struggle to find scoring beyond Dixon's usual efforts. Look for the Tigers to run and slash, pound it inside to Pettaway and Nyliah Jamison-Myers and look for Gramlich to spot up. Gramlich is highly streaky as a shooter, but if she gets hot then she can space the floor for everyone else.
What To Expect: The Hokies easily defeated the Tigers in their first meeting. The size and mobility of Uju Ugoka is a bad match-up for Clemson, and they don't have anyone who can guard an increasingly confident Vanessa Panousis. The Tigers are a likely one-and-done team, unless Dixon manages to really get loose and get 20+ points.
Digest 2014 Most Outstanding Clemson Player Nikki Dixon
File Photo by Orin Day
---
#2 Duke 25-5, 12-4 ACC
Friday 6 PM vs. #7 Georgia Tech vs #10 UVa/#15 BC winner
Players To Watch: Shot-blocking center Elizabeth Williams (#1), sweet-shooting guard Tricia Liston (#32), stretch four Haley Peters (#33).
What To Watch For: Duke is the team most hobbled by injury in the ACC this season, especially at guard. Starting backcourt Chelsea Gray and Alexis Jones are both out. Back-up guard Chloe Wells is injured. Incoming frosh Kianna Holland transferred before she played a single minute, and another incoming frosh, Rebecca Greenwell, is redshirting due to injury. Duke is a now a slow-down team built around size and shooting. Liston is handling the ball a lot but also relegates some of those duties in order to hunt her shot. Duke will play forty minutes of zone, try to keep turnovers to a minimum and rule the boards.
What To Expect: If Duke plays Georgia Tech, watch the Jackets press as much as possible in order to get easy looks at the basket. The Devils have a significant size advantage over the Jackets and will try to keep them out of the lane and force them to shoot contested jumpers. If Duke can limit their miscues, they should win with relative ease. If Duke hands the Jackets a lot of easy points off of turnovers, the Jackets could pull the upset.
Digest 2014 Most Outstanding Duke Player Tricia Liston
File Photo by Orin Day
---
#9 Florida State 19-10, 7-9 ACC
Thursday 2 PM vs. #8 Miami
Players To Watch: Dominant and silky forward Natasha Howard (#33), quick point guard Cheetah Delgado (#5), tall shooter Morgan Jones (#1) .
What To Watch For: This is a Seminole team whose lack of depth started to wear on them a bit as the season went on. Highly dependent on freshmen (including two starters), their only good win over the past couple of months came against Syracuse. This is a team that needs to win at least one game in the ACC tournament to feel good about getting an NCAA bid. Howard is a tough match-up for anyone, Delgado gets her the ball in the right spots and Jones' size gives her lots of good looks at the basket. However, this is a poor-shooting team that turns the ball over quite a bit and doesn't always get enough scoring from its support players to make up this difference.
What To Expect: This is a relatively simple game to handicap. The two teams split during the regular season, playing close games each time. The winner in each case was the team that won the rebounding battle. I see that playing out in much the same way if the teams are otherwise relatively close in terms of shooting and turnovers.
Digest 2014 Most Outstanding Florida State Player Natasha Howard
File Photo by Orin Day
---
#7 Georgia Tech 19-10, 9-7 ACC
Thursday, 6 PM vs. #10 Virginia/#15 BC winner
Players To Watch: Dominant mid-range scorer Ty Marshall (#3), silky shooter Kaela Davis (#3), shooter/ballhandler Sydney Wallace (#23) .
What To Watch For: The Jackets have slowly become a dangerous team over the past couple of months, earning an upset of UNC and beating their peers. Only a loss to Clemson in overtime marred their record. This is a team built around penetration and three point shooting at one end and built around pressure defense and a 2-3 zone at the other. Marshall, GT's all-time leading scorer, is a lethal player who becomes even more dangerous when her jumper is in tune. Davis, the tall frosh guard, hasn't been afraid to let it fly early and often; this has been validated by solid shooting numbers. GT's size isn't great at scoring, but they are a solid rebounding team. This team forces turnovers and fouls but also commits them at an alarming clip.
What To Expect: GT should be able to handle the winner of the Virginia-BC game, especially since neither team has the size to trouble them nor the athleticism to keep up with them. That would leave Duke as their opponent, a team the Jackets haven't defeated in twenty years. Of course, this is a hobbled Duke squad that lacks the athleticism it possessed when the two teams met in early January. The Jackets will press Duke like crazy in hopes of getting easy scores. Georgia Tech has often had trouble with Duke's zone, and they'll need to bust through it if they hope to win. Tech needs one more win to absolutely assure an NCAA bid and get to 20 wins; an upset of Duke would likely bump them up a seed.
Digest 2014 Most Outstanding Georgia Tech Player Tyaunna Marshall
File Photo by Orin Day
---
#3 Maryland 24-5, 12-4 ACC
Friday 8 PM vs. #6 UNC vs #11 Wake/#14 Pitt winner
Players To Watch: Dominant wing Alyssa Thomas (#25), speedy point guard Lexie Brown (#4), dependable post Alicia DeVaughn (#13).
What To Watch For: The Terps are deep but inexperienced, though their frosh have played excellent basketball at points this year. Thomas is a difficult matchup on the low block for anyone but is erratic as a shooter. Indeed, the Terps as a whole are lethal when their shots are falling from long range but vulnerable otherwise, especially if teams double or triple team Thomas as a result. The Terps are at their best when they are active on the boards, control tempo and nurse leads until they expand. They aren't as adept at rallying from behind due to their youth and relative lack of versatility in their lineup.
What To Expect: The Terps will go as far as their frosh take them. Thomas is a constant who plays well in tournament time, but she will need help from Brown, wing Shatori Walker-Kimbrough (especially shooting), and post Brionna Jones. At least two of them will need to deliver star turns. The Terps will likely have to play an erratic but dangerous UNC team in the quarterfinals and possibly go up against Duke in the semis. This is a tough road, but Maryland is more than capable of plowing all the way through to the ACC finals. Rebounding will be the key for them, because they should have enough shooting to beat UNC and enough size to take out Duke if they can get extra possessions through ruling the boards.
Digest 2014 Most Outstanding Maryland Player Alyssa Thomas
File Photo by Orin Day
---
#8 Miami 16-13, 8-8 ACC
Thursday 2 PM vs. #9 Florida State
Players To Watch: Frosh point guard and clutch scorer Adrienne Motley (#23), shooter Caprice Dennis (#1), and tough wing Keyona Hayes (#20).
What To Watch For: The Canes are a perimeter-oriented team that is built on pressure defense that slides back into a zone. Miami has a complement of shooters and penetrators who look to set each other up, and a decent amount of depth. The Canes tend to get different contributors in every game, but Motley has been a clutch player and Hayes has been a tenacious rebounder all year long. Watch out for forward Necole Sterling, who's had a number of big games recently off the bench. Miami is a poor rebounding club that relies on generating turnovers to make up the difference in possession differential.
What To Expect: The Canes and Florida State split this season. Other things being equal, rebounding will be the key to success in this game, as both teams are evenly matched. Three point shooting will be the other key, because both teams are capable of putting up big numbers from distance. The winner will be a sacrificial lamb to juggernaut Notre Dame.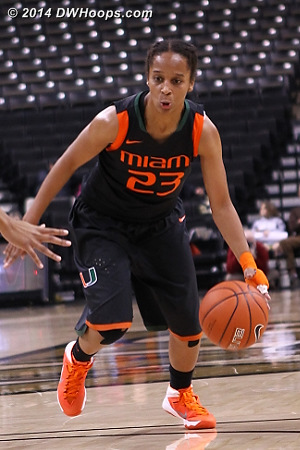 Digest 2014 Most Outstanding Miami Player Adrienne Motley
File Photo by Orin Day
---
#6 North Carolina 21-8, 10-6 ACC
Thursday 8pm vs.#11 Wake/#14 Pitt
Players To Watch: Dynamic scorer Diamond DeShields (#23), athletic forward Stephanie Mavunga (#1), silky shooter Allisha Gray (#15) .
What To Watch For: The very young Heels (no seniors) are built around their freshmen, soph forward Xylina McDaniel, and a host of solid role players. This is a team that loves to play uptempo and get out in transition. The Heels love to pick off skip passes for fast breaks and use their quickness to get offensive rebounds and second shots. They are highly erratic in terms of shooting, defense and ballhandling. When the team is focused, they can be tough to stop. When they lose their confidence, they have been known to get in long scoring droughts.
What To Expect: The Heels should be able to dispatch an overmatched Wake club in the first round (unless Dearica Hamby and Chelsea Douglas put up thirty or forty points apiece), thanks to their sheer talent and depth. Playing a big Maryland squad could prove to be problematic, especially if the Terps hit some jump shots and rule the boards, as one would expect them to do. If the Terps struggle from the perimeter, then I see the Heels moving all the way to the finals. Otherwise, this young group will absorb the lessons that losing brings a team and puts them in a tough spot to start a tournament.
Digest 2014 Most Outstanding North Carolina Player Diamond DeShields
File Photo by Orin Day
---
#4 NC State 24-6, 11-5 ACC
Friday 11 AM vs. winner of #5 Syracuse vs #12 VT/#13 Clemson.
Players To Watch: Imposing center Markeisha Gatling (#34), versatile forward Kody Burke (#44), quick point guard Len'Nique Brown (#2) .
What To Watch For: The Pack have had a fine turnaround season behind new coach Wes Moore, who has gotten the most out of his players while working them in his system. Unfortunately, the Pack lost starting guard Myisha Goodwin-Coleman to injury, along with backup center Lakeesa Daniel. This puts even more pressure on players like Burke and Brown, along with complementary scorers such as Miah Spencer and Krystal Barrett. State plays four-out, one-in on offense, with Burke running around the perimeter to take open shots or driving to the basket. Gatling is the first option on offense, and Moore predicates the balance of his offense on her ability to post up and get good position on opponents. Losing the injured players means there's no credible back-up for Gatling if she gets into foul trouble and that Moore is more dependent on young players for scoring.
What To Expect: Assuming Syracuse wins its opener against VT/Clemson, I see them having the upper hand against the Pack here. Losing Goodwin-Coleman also means losing another ballhandler, and I expect the Orange will constantly pressure the Wolfpack in an effort to manufacture some points. Syracuse's depth and athleticism will win out in the end, unless Burke and Gatling go crazy in this game.
Digest 2014 Most Outstanding North Carolina State Player Kody Burke
File Photo by Orin Day
---
#1 Notre Dame 29-0, 16-0 ACC
Friday 3 PM vs winner of #8 Miami/#9 FSU.
Players To Watch: Dynamic guard Jewell Loyd (#32), polished guard Kayla McBride (#21), experienced and physical post Natalie Achonwa (#11).
What To Watch For: The Irish are exceptionally disciplined, skilled and competitive. They execute like no other team in college basketball save UConn. Their ability to take away what opponents want to do on offense is remarkable, especially given that there are few truly gifted athletes on this squad. McBride is a great shooter and passer, but Loyd is a difference-maker with the kind of speed that can be matched by very few. Achonwa is the chippy enforcer of the team who is also a skilled shooter. The team has excellent chemistry, with glue players like Ariel Braker, frosh point Lindsay Allen and shooter Michaela Mabry filling their roles to perfection. The team's only weakness is a lack of athleticism and overall skilled size up front, something that can be exploited only by a small handful of opponents.
What To Expect: I expect the Irish to dominate what is already the weaker side of the bracket. If they wind up playing Syracuse in the semifinal as I would expect, this gives them an easy road to the ACC finals. The only team that is capable of stopping them in the final is Maryland, and the Terps would have gone through a much tougher road. I see very little getting in the way of the Irish and their first ACC tournament title and an overall #1 seed in the NCAA tournament.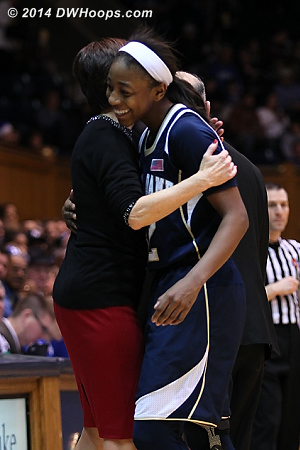 Digest 2014 ACC Player of the Year Jewell Loyd
File Photo by Orin Day
---
#14 Pittsburgh 11-19, 3-13 ACC
Wednesday 6:30 PM vs. #11 Wake Forest.
Players To Watch: Point guard Brianna Kiesel (#3), rebounding forward Asia Logan (#00), shooter Loliya Briggs (#1).
What To Watch For: The Panthers don't have a lot of talent or experience, but they did make an uptick as a program behind new coach Suzie McConnell-Serio. Given that this team won no games in their last year in the Big East, this season does represent an improvement. That said, the Panthers played hard but lacked talent at almost every position. Only Kiesel was a viable, ACC-level threat in every game. Logan and Briggs improved as the season went on, but the Panthers are mostly a collection of role players trying to keep their heads above water.
What To Expect: Kiesel can match Chelsea Douglas shot-for-shot if it comes to that, but I don't think the Panthers have anyone who can match up with Hamby. The Panthers played them tough in their first meeting, but Wake traditionally always plays well in the early rounds of the ACC tournament. I don't see Pitt pulling the upset here.
Digest 2014 Most Outstanding Pitt Player Brianna Kiesel
File Photo by Orin Day
---
#5 Syracuse 21-8, 10-6 ACC
Thursday 11am vs. winner of #12 VT/#13 Clemson.
Players To Watch:Powerful forward Brittney Sykes (#20), smooth guard Brianna Butler (#13), big center Shakeya Leary (#34).
What To Watch For: The Orange have been a sort of stealth team in their first ACC season. They pulled off an upset of UNC that secured them the #5 seed in the tourney, as coach Quentin "Coach Q" Hillsman used his disciplined zone, pressing style and depth to perfection. In particular, his team dominated the Heels on the boards. For a team that mostly plays zone, rebounding is always key, and Syracuse is no exception. Sykes and Butler are a perfect inside/outside combo, as Butler attacks from the perimeter and Sykes attacks the rim. Leary (and backup Briana Day) give the Orange some options at the post, and their point guard play is solid. The Orange can struggle if they get in foul trouble, if they start getting careless with the ball, or if their press starts to get leaky.
What To Expect: The Orange are a team that should thrive in this kind of setting, thanks to its depth and style of play. They should be able to dispatch VT or Clemson with few problems, and they have the potential to take out NC State as well. With the Pack limited by injuries, Syracuse has the opportunity to punish them inside, force turnovers and generally wear them out. The one caveat is that Sykes and Butler will need a third double-digit scorer to emerge in each game, or they could struggle. I don't expect Syracuse to have a chance against Notre Dame if they get that far, but don't be surprised if they make a splash in Greensboro.
Digest 2014 Most Outstanding Syracuse Player Brittney Sykes
File Photo by Orin Day
---
#10 Virginia 13-16, 6-10 ACC
Wednesday 3:30 PM vs. #15 Boston College.
Players To Watch:Spidery shooting specialist Ataira Franklin (#23), perimeter defensive ace Lexie Gerson (#14), super sub Faith Randolph (#20).
What To Watch For: The Hoos have been the most disappointing team in the ACC. They were in line to be an NCAA team, perhaps an eight seed or so, prior to this year. As the season progressed, I thought that at the very least they'd be a WNIT squad. Instead, they lost to teams like Pitt and Boston College, negating their impressive upset of Maryland. The team played far too tough a non-conference schedule and then struggled to stay afloat in the ACC. This is a veteran squad that had a number of players returning from injury, a circumstance that led to a slow start at the beginning of the season. At the moment, coach Joanne Boyle's players tend to have the same lapses of focuses and make the same mistakes in game after game. The Hoos are a perimeter-oriented team, but they've struggled this year because they've lacked a take-over playmaking guard. Another problem has been post play; forward Sarah Imovbioh has moments of being a dominant player and other moments of not quite knowing where to be on the floor. When this team is motivated, focus and in synch, they can play stifling defense and fluid offense. Which Virginia team shows up is one that their fans will be wondering as they enter what could be the final games for their seniors.
What To Expect: The Hoos drew Boston College, which is not a great matchup for them. The Eagles beat them earlier this year and knocked them out of the ACC Tournament last season. Of course, if the Eagles don't have post Katie Zenevitch, then all bets are off. Zenevitch provides a dependable post scorer that Virginia has trouble defending, which allows BC's shooters to get good looks. If she's not there, then Virginia will simply jam BC's shooters and dare them to drive. Meanwhile, scoring won't be an issue for Virginia without Zenevitch there to clog up the paint. If Zenevitch plays, then I look for BC to win in a tight game. If she doesn't, then I see Virginia winning fairly easily.
Digest 2014 Most Outstanding Virginia Player Ataira Franklin
File Photo by Orin Day
---
#12 Virginia Tech 14-15, 4-12 ACC
Wednesday 1 pm vs #13 Clemson.
Players To Watch:Smooth wing Monet Tellier (#31), dominant post Uju Ugoka (#14), tenacious playmaker Vanessa Panousis (#5).
What To Watch For: The Hokies have three players capable of contributing for (and competing against) virtually any team in the ACC. Unfortunately, VT has a roster full of players otherwise incapable of competing against the ACC. That's pretty much been the story of their season, as they started off hot against weak competition and then wilted in the face of the crucible that is the ACC conference season. Still, the Hokies hold out some hope that they could even their record at .500 and participate in the WNIT. It's a slim hope, but that's what seniors Tellier and Ugoka are competing for. Ugoka is an agile and strong player who's tough to keep off the boards. Tellier and Panousis are both on the streaky side but can put up 20+ points in any given game. If the Hokies can get anything from complementary players like Taijah Campbell or Hannah Young, it's a bonus.
What To Expect: Clemson has deeper talent overall, but VT's top three is better than Clemson's top three. That should give the Hokies a slight edge in this game, other things (like foul trouble) being equal. If they beat the Tigers, I don't expect a drained Hokie squad to have much of a chance against a rested Syracuse club.
Digest 2014 Most Outstanding Virginia Tech Player Uju Ugoka
File Photo by Orin Day
---
#11 Wake Forest 14-15, 5-11 ACC
Wednesday 6:30pm vs. #14 Pitt.
Players To Watch:Gunslinging guard Chelsea Douglas (#5), rangy but dominant forward Dearica Hamby (#25), hard rebounding post Jill Brunori (#2).
What To Watch For: The Deacs have two of the top scorers in the ACC in Hamby and Douglas. Their problem is that their talent pool drops off after that. Brunori has been an outstanding player despite nursing injuries, but there's not much else there for the Deacs. Douglas is a feisty player with a quick release who isn't afraid to fire away. Hamby is slender but skilled and aggressive. Brunori has a nose for the basketball. If they get additional scoring from players like Millesa Callicott, Kelila Atkinson and Ataijah Taylor, then Wake is suddenly a dangerous team.
What To Expect: Douglas and Pitt's Brianna Kiesel might have a scoring duel in their first round matchup. However, Pitt doesn't have anyone who can slow down Hamby or keep Brunori off the boards. This one promises to be a grinder that Wake will ultimately win. The real question is whether Wake can get an upset win over UNC, because that would make them WNIT eligible. It's a longshot, but the Deacs will have the closest equivalent to homecourt advantage here, and they certainly used it to good effect last season. The bad news is a stomach bug going around the Wake program recently may still be in play.
Digest 2014 Most Outstanding Wake Forest Player Dearica Hamby
File Photo by Orin Day
---
We'll be in Greensboro for the entire ACC Tournament, with recaps, analysis and photos of every game. Check our galleries for photos of your favorite players and teams over the next five days until a champion is crowned!