By JP Mundy, Photos by Dana E. Warren


Dearica Hamby received a commemorative ball from coach Jen Hoover for 1,000 career points at Wake Forest. She scored 26 more tonight.
Jewel Loyd scored a game high 29 points and added 10 rebounds as Notre Dame continued their undefeated run through the ACC.
Photos by Dana E. Warren - view more at DEWShots.com
Special Announcement!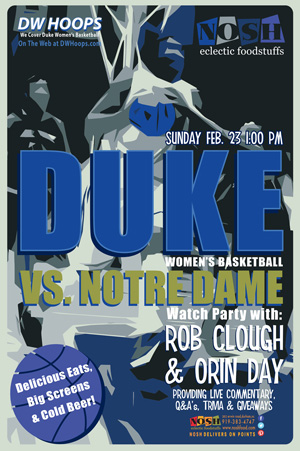 Join the DWHoops team at Nosh in Durham this Sunday for basketball, food, and fun! Click the poster for more info!
#2 Notre Dame got 29 points and 10 rebounds from sophomore Jewell Loyd and defeated the Demon Deacons 86-61 Thursday night in Winston-Salem. The Irish (26-0,13-0 ACC) scored 30 points off 22 Wake turnovers and out-rebounded the Deacs, 49-39 to continue their march through the ACC. Senior Kayla McBride added 19 points and 7 rebounds for the Irish in 31 minutes of play.
Wake Forest (14-12, 5-8 ACC) was led by junior Dearica Hamby's 26 points, despite Notre Dame's strategy to double-team the ACC's leader in scoring and rebounding. Hamby was aided by freshman Jill Brunori's first career double-double, (10 points, 10 rebounds) and 8 points from Millesa Calicott.
Notre Dame notched the blowout win despite being held to 39.4 percent shooting for the game. The Irish came into Thursday's contest averaging 52 percent from the floor, but were held in check by the dogged determination of the Deacon defenders. Free throws also played a factor in the game, as the Irish hit 27 of 31 shots from the foul line while Wake Forest's managed make only 55 percent.
Top Performers
Jewell Loyd, Notre Dame 29 points, 10 rebounds, 10-12 FT. Wake Forest had no answer for Loyd, who spent much of the night befuddling Deacon defenders. Relentless around the basket and constantly looking to get open, Loyd looked every bit the Wade Trophy candidate she is.


Kayla McBride, Notre Dame 19 points,7 rebounds. Despite shooting 7-21 from the field, McBride picked up the slack left by the rest of her teammates, who struggled to score from the field.


Dearica Hamby, Wake Forest 26 points, 8 rebounds. Hamby's back is starting to get sore from carrying the offensive load for the Deacs, who were once again without.


Game Analysis
Why Notre Dame won: The Fighting Irish took full advantage of Wake's generosity with the ball, and made 27 free throws on the night. When you have a terrible night offensively and win by 25, you're pretty darn good.
Why Wake Forest lost: 22 turnovers, and the Deacs lost the rebounding battle by 10.
The Game Turned When...: Wake Forest went nine minutes of the second half without a field goal. That can't happen, especially against teams the caliber of Notre Dame.
X-Factor: Chelsea Douglas missed another game with a sore foot. She is day-to-day, but time is running out on her senior season.
Key Stat: 10 of the 22 Wake Forest turnovers came from Ataijah Taylor and Mykia Jones, Douglas' replacements.
Areas for Improvement: Notre Dame can't have many shooting nights like Thursday's and expect to make a Final Four. Wake Forest needs wins to avoid Wednesday at the ACC Tournament, and to do that they need to value the basketball.
Ramifications: The beat goes on for undefeated Notre Dame, who are seeking far greater rewards than Wake Forest (and most of the country). Wake Forest needs a win at Miami and a win next Sunday versus Syracuse to have a shot at the 8/9 game of the conference tournament.
They Said It: "We just couldn't get any rhythm going, offensively . I think driving the ball seemed to be our best offense. and I thought Hamby was fantastic. She's just a great player."- Notre Dame coach Muffet McGraw on the victory
We encourage you to follow @JP_Mundy on Twitter, and you can view more of Dana Warren's fantastic sports photos at DEWShots.com.