By Mike Potter



Please Support our Sponsor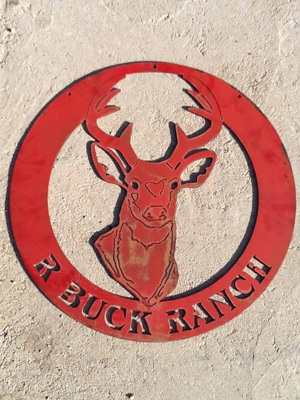 Click here to learn more about R Buck Ranch. Owned and operated by women's hoops fans, they offer premium hunting and fishing in the Heart of Texas!
---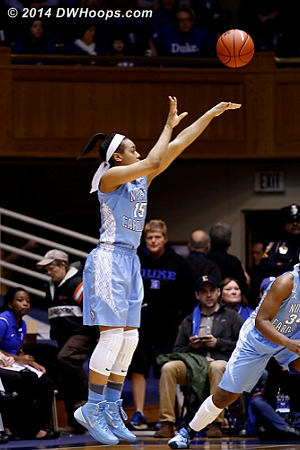 Allisha Gray continued her recent shooting tear with her second straight efficient 20+ point game as UNC defeated Pitt 86-50.
DWHoops file photo by Orin Day

---
Order ACC WBB 2014 Annual with Paypal!
North Carolina and Pittsburgh proved it's possible to play a basketball game in Chapel Hill this week. Although half a foot of snow has thrown the Triangle into major disarray and postponed Wednesday's "Battle of the Blues" men's game with Duke, the Panthers had been in town for 24 hours and the ladies pressed on at Carmichael Arena.
It was the Tar Heels' pink "Play4Kay" breast-cancer awareness game, and the student section turned out in better force than it does for a non-marquee opponent and provided a little atmosphere.
In its first season in the league and first under Suzie McConnell-Serio Pitt has struggled against the ACC's best, and this one was no different with the Tar Heels rolling 86-50. Pitt has lost to Notre Dame by 43, Duke by 44 and Maryland by 48, and just isn't ready to compete against the upper echelon.
The much more athletic Tar Heels dominated throughout, as the Panthers just couldn't seem to get much going until they were already 20 points behind.
Top Performers
Allisha Gray, UNC. The freshman guard continued her sizzling shooting, scoring 21 points on 7-for-9 for nine from the floor, including 4-for-5 from 3-point range. She also added five rebounds, with this all taking place in just 23 minutes on the floor.


Diamond DeShields, UNC. The freshman wing had another dominant performance, scoring 19 points with six rebounds and four assists in just 23 minutes as well.


Xylina McDaniel, UNC. The sophomore forward played just 13 minutes, but had eight points, seven rebounds and two blocks as her team put the game away early.

Honorable Mention: Asia Logan, Pitt. The senior point guard had a solid game in 33 minutes, scoring 14 points with eight rebounds, one turnover and two fouls.
Game Analysis
Why UNC Won: The Tar Heels were just better in all phases of the game. Both Xylina McDaniel and Diamond DeShields are major forces all over the floor, and when they both get going and the solid supporting cast does its job a merely decent team can't keep up. Allisha Gray is a steady "silent assassin" from outside, and UNC just had too many weapons for Pitt.
Why Pittsburgh Lost: The Panthers got out of the game in the opening minutes, and just didn't have the talent to keep up. From 13:56 of the first half until 6:44 the Panthers didn't have a single field goal, and by that point the game was pretty much decided at 31-13.
The Game Turned When ...: The Tar Heels took it over after the opening tip. UNC was very much ready to play, using a 17-2 run by the second TV timeout to demoralize the visitors.
Key Stat: Shooting percentage. The Tar Heels shot 48.6 percent to the Panthers' 27.9, including 51.5 to 28.1 after halftime. UNC was 8-for-20 from outside the arc while Pitt was 2-for-21.
X-Factor: Crowd involvement. Perhaps it was cabin fever from the snow, or maybe it was the free pink T-shirts, or maybe some carryover from Monday's win at Duke. But Thursday's crowd was primarily a young one that kept its intensity up throughout the rout.
Areas for Improvement: Pitt needs better outside shooting to be able to compete with an upper-level ACC team. And there wasn't much to complain about concerning the Tar Heels' performance except for their 8-for-16 free-throw shooting.
Ramifications: With the easy win, the Tar Heels kept pace in their battle to finish in the top four in the ACC and perhaps claim a top four seed in the NCAA Tournament. UNC has had little trouble with any of the ACC's Bottom Five. The loss left Pittsburgh five games under .500, meaning the Panthers would have to win their next six games including two huge upsets for a chance at a WNIT bid.
They Said It ...: DeShields - "The last 24 hours have been relaxing. I've just been enjoying my bed and the Playstation and NetFlix. Classes were cancelled today and tomorrow."
Mike Potter is a 35-year sports writer in Raleigh who has covered ACC Women's Basketball as a beat writer for the past decade. Follow him on Twitter via @mikepotterrdu.