By JP Mundy, Photos by Dana E. Warren


Dearica Hamby surpassed the 1,000 career point mark with her game high 24 points. She's the 23rd Demon Deacon to reach that plateau.
Milessa Calicott scored 13, but none more important than her two game-clinching free throws with 5.9 seconds left. Here she drives past Virginia Tech's Serafina Maulupe.
Photos by Dana E. Warren - view more at DEWShots.com
Please Support our Sponsor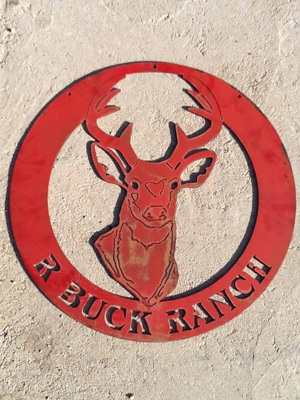 Click here to learn more about R Buck Ranch. Owned and operated by women's hoops fans, they offer premium hunting and fishing in the Heart of Texas!
---
Virginia Tech's Vanessa Panousis stepped up to score a team high 21 points including 5-7 shooting from long range.
Photo by Dana E. Warren, DEWShots.com
Wake Forest dug itself a first-half hole for the second time in as many outings but once again gathered itself to win a basketball game, this time beating Virginia Tech 65-64 at home Thursday night. Millesa Calicott sank two free throws with five seconds remaining to claim victory for the Demon Deacons, now 14-11 (5-7 ACC)
Both teams played without key players: Senior guard Monet Tellier did not play for the Hokies after injuring her hand near the end of their 72-71 OT loss to N.C. State. Likewise, Chelsea Douglas was held out for the second straight game to rest her sore foot.
Freshman guard Vanessa Panousis picked up the slack for the Hokies, scoring 21 points and hitting five 3-pointers. Sophomore Hannah Young chipped in with 17 points for Tech. The Deacs were once again led by junior Dearica Hamby, who poured in 24 points. Calicott was the only other Deac in double figures, scoring 12 on the evening.
Top Performers
Dearica Hamby, Wake Forest 24 points, 7 rebounds, 10-13 FT. Hamby once again turned it on when her team needed her most, joining the 1,000-point club along the way.


Vanessa Panousis, Virginia Tech 21 points, 5-7 3FG, 4 assists. Wake Forest could never find the seemingly always-open freshman, especially in the first half. Three more years of this could have shooting records falling like, like North Carolina snow...


Game Analysis
Why Wake Forest won: Nobody can guard Dearica Hamby. They can pummel her all they want, and double or triple-team her, but they can't deny her when she flips the switch. She was roughed up all game and kept her head and sank her free throws.
Why Virginia Tech lost: Lack of a third scorer. The only other Hokie anywhere near double-digit scoring was Ugo Ugoka, who had 11. There was little help. After Hamby and Calicott, Wake Forest had one player with nine points (Kandice Ball) and two with eight points apiece (Mykia Jones, Jill Brunori).
The Game Turned When...: Calicott hit the last two free throws of the game. It was a fitting end to a back-and-forth contest featuring two teams struggling without prominent offensive weapons.
X-Factor: Sophomore forward Kandice Ball scored nine points, snagged seven rebounds and only recorded two personal fouls in 25 minutes of play for the Deacs. If coach Jen Hoover could get that every night from Ball, the Deacs will be a problem in Greensboro.
Key Stat: One. As in, "Chelsea Douglas' replacement Mykia Jones only turned the ball over one time tonight." Her backup, Ataijah Taylor only had two. You can't ask for much more than that if you're Hoover.
Areas for Improvement: For Virginia Tech, find scoring. For Wake Forest, find healing. Douglas has to be ready for Notre Dame (not to mention Greensboro) and Taylor and Kelila Atkinson can be huge assets to this team if both are healthy.
Ramifications: Wake Forest is now 5-7 in ACC play, which is good enough for 11th place. However, seventh place Syracuse is 6-6. If you do the math, you understand that these young Deacons have a shot a decent seed for the ACC Tournament in March.
They Said It: "We're fighting through it. We really stayed together and did what we thought we could do. We're definitely coming together as a team. We understand that it's literally all 12 of us." - Wake Forest junior Millesa Calicott on how her team is learning to compete under adverse circumstances.
We encourage you to follow @JP_Mundy on Twitter, and you can view more of Dana Warren's fantastic sports photos at DEWShots.com.