By Rob Clough


Digest ACC Power Rankings
Through February 11, 2014


---

#1
23-0,
10-0

Last:
@FSU (W, 81-60)
CUSE (W, 101-64)
Next:
2/13 @BC
2/17 GT (RSN, 7 PM)

---

#2
21-3,
8-2

Last:
WAKE (W, 74-69)
@VT (W, 72-71 OT)
Next:
2/13 @CLEM (RSN cancelled)
2/16 UNC (ESPN2, 3:30 PM)

---

#3
22-2?,
9-1?

Last:
@CLEM (W, 78-51)
UNC (L, 89-78)
Next:

2/13 open
2/17 MD (ESPN2, 7 PM)

---

#4
19-4,
7-3

Last:
PITT (W, 94-46)
CLEM (W, 95-43)
Next:
2/13 @MIA
2/17 @DUKE (ESPN2, 7 PM)

---

#5
18-6 ??,
5-5 ??

Last:
@GT (L, 94-91 OT)
@DUKE (W, 89-78)
Next:
2/13 PITT
2/16 @NCSU (ESPN2, 3:30 PM)

---

#6
16-8,
7-5

Last:
UNC (W, 94-91 OT)
@MIA (W, 89-87)
Next:
2/13 UVA (ESPN3, 7 PM)
2/17 @ND (RSN, 7 PM)

---

#7
17-6,
6-5

Last:
VT (W, 73-48)
@ND (L, 101-64)
Next:
2/13 FSU
2/16 @BC (RSN, 1 PM)

---

#8
12-11,
5-5

Last:
@BC (L, 69-65)
Next:
2/13 @GT (ESPN3, 7 PM)
2/16 VT

---

#9
12-11,
4-6

Last:
GT (L, 89-87)
Next:
2/13 MD
2/16 @FSU (ESPN3, 2 PM)


---

#10
16-7,
4-6

Last:
ND (L, 81-60)
BC (W, 72-55)
Next:
2/13 @CUSE
2/16 MIA (ESPN3, 2 PM)

---

#11
13-11,
4-7

Last:
@NCSU (L, 74-69)
@PITT (W, 74-50)
Next:
2/13 VT (6 PM, RSN @ 8:30 PM)
2/16 open

---

#12
11-14,
3-8

Last:
DUKE (L, 78-51)
@MD (L, 95-53)
Next:
2/13 NCSU (RSN cancelled)
2/16 @PITT

---

#13
10-14,
2-8

Last:
@MD (L, 94-46)
WF (L, 74-70)
Next:
2/13 @UNC
2/16 CLEM

---

#14
11-12,
1-9

Last:
CUSE (L, 73-48)
NCSU (L, 72-71 OT)
Next:
2/13 @WAKE (6 PM, RSN 8:30 PM)
2/16 @UVA

---

#15
12-13,
3-8

Last:
UVA (W, 69-65)
@FSU (L, 72-55)
Next:
2/13 ND
2/16 CUSE (RSN, 1 PM)

---

Editor's Note: Our sidebar is presented in pink in
remembrance of Kay Yow
---
Digest Weekly Coverage:
DWHoops Weekly Coverage:
---
Parsing The Week's Results: Notre Dame tightened their grip on the ACC by easily beating two of the ACC's mid-level teams. While their defeat of FSU was impressive (see below), their destruction of Syracuse was even more devastating. Syracuse is a team that relies heavily on the press to disrupt opponents, and the Irish were able to easily break it and then solve their zone with zippy ball movement. UNC had the biggest swing of the week, going from a devastating loss against Georgia Tech to a stunning and surprisingly easy win at Duke (see below). The Blue Devils had slogged through a win against Clemson the previous game, and their sluggish play against the Heels suggest that they are a team that is feeling the absence of its injured players and possibly a squad that's starting to tune out their coach.
Meanwhile, NC State quietly avoided two potentially disastrous upsets. The Pack first barely fended off a hard-charging Wake Forest club. The Deacs had a chance to tie the game with ten seconds left, but Chelsea Douglas missed a three. Kody Burke closed out the game for State with two free throws. Against Virginia Tech, Markeisha Gatling scored inside with under thirty seconds left to send the game into overtime and Len'Nique Brown hit a driving layup for the game-winning shot with four seconds left in OT. Maryland whipped Pitt to start off their week, one that saw them solidify their spot near the top of the league. Their game with Duke now looms large, because they'll have a chance to tie the Devils if they win in Cameron next week. Florida State got a needed win against a reeling Boston College club, while Wake Forest edged Pitt in a game where each squad's top guard was missing (Chelsea Douglas for Wake, Brianna Kiesel for Pitt).
Best Win: UNC 89, Duke 78. Led by frosh Diamond DeShields and Alisha Gray, the Heels got plenty of open looks from three and used deft passing to find open shooters instead of jacking up shots against Duke's zone. Whenever Duke made a mistake, the Heels punished them with outstanding transition scoring. Duke was able to score inside with Elizabeth Williams, but they lost back-to-back ACC games in Cameron for the first time since 1994, which were also double-digits losses. After losing three in a row, the Heels righted their ship with a focused, disciplined style of basketball that still took advantage of their tempo-altering speed.
Worst Loss: Notre Dame 81, Florida State 60. This game simply demonstrated that even a decent team like Florida State is no match for the Irish's firepower, efficiency and teamwork. Once the Irish get the measure of an opponent, they go on a run that wipes them off the map. Florida State guards Morgan Jones and Brittany Brown combined to go just 7-27 from the field.
Trending Up: Georgia Tech. The Jackets preserved their NCAA hopes with two tight, exciting wins. First up was a pulse-pounding upset of UNC that saw Ty Marshall hit three of four from the line in the closing seconds to preserve Tech's lead after frosh star Kaela Davis put the team ahead by one with thirty seconds left. Tech had a ten point lead that UNC managed to make up, but the Jackets held on and UNC missed a number of free throws. The Jackets then went on the road and beat Miami, as Marshall once again hit a late free throw to preserve the win. Along the way, she became Georgia Tech's all-time leading scorer and moved past the 2,000 point mark for her career. Not bad for a player who wasn't even ranked in the top fifty by most recruiting services. Beating UNC makes up for their excruciating loss to Clemson, but the Jackets still have to take care of business down the stretch.
Trending Down: Clemson. Clemson gave Duke a solid, competitive half of play before being blown out, but they stood no chance against Maryland. The Tigers averaged just 47 ppg in their two losses, as Nikki Dixon got very little assistance. Teams ganged up on her and forced her into poor shooting.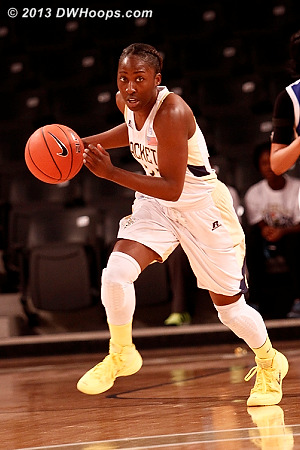 Sydney Wallace,
Georgia Tech
(File Photo by Orin Day)

Surprise Player Of The Week: Sydney Wallace, Georgia Tech. The Jackets have been searching for a consistent third scorer all season, and the streaky Wallace happened to have a very good week. She had 14 points against UNC and 20 against Miami. She wasn't the finisher in either game -- that was Ty Marshall's job -- but she kept Tech in both games early on. Most importantly, she acted as another floor spacer for when teams played up on Kaela Davis or kept the ball out of Marshall's hands. If Wallace can stay in double digits in every game, Tech will have a chance to finish in the top four or five in the league.

Five Games To Watch:
Florida State @ Syracuse (2/13, 7pm): Florida State is in our spotlight this week, because they desperately need to win some games against their peers to stay in the NCAA tournament picture. Syracuse is in a much better spot, but they also can't afford to lose a game like this at home. We'll see if the Orange can bounce back after being dissected by Notre Dame.


Miami @ Florida State (2/16, 2pm ESPN3): Miami's NCAA hopes are non-existent, but they're trying to win enough games to qualify for the WNIT. Doing so on the road against an arch-rival will be difficult.


UNC @ NC State (2/16, 3:30pm ESPN2): Both teams have seen their confidence level rise since their last matchup. NC State's size will be a big problem, but NC State's lack of depth might tell in this game. I see the Heels earning the sweep, but State is always extra tough in their Hoops 4 Hope game, part of the Play 4 Kay series on ESPN. The Digest will be there with Mike Potter's recap and analysis and Orin's photos.


Maryland @ Duke (2/17, 7pm ESPN2): After a week off, we'll see if Duke can bounce back from several weeks' worth of disappointing performances. They'll be facing a team that would love to score a win at Cameron Indoor Stadium on their way out of the ACC, feeling extra slighted without a return game (the series has been home and home since the 1982-83 season). Maryland has all the tools needed to win the game; it will just be a matter of putting it all together. Rob and Orin will cover this game for DWHoops.


Georgia Tech @ Notre Dame (2/17, 7pm RSN): This is a huge test for an up-and-coming Tech squad. While I don't expect them to win, I'm curious to see how their guards matchup up against the Irish guards.
---
The Digest will return next week, with only two more weeks remaining in the regular season. The ACC Tournament starts Wednesday March 5th, and we'll be there with wire-to-wire coverage!