By Mike Potter, Photos by Dana E. Warren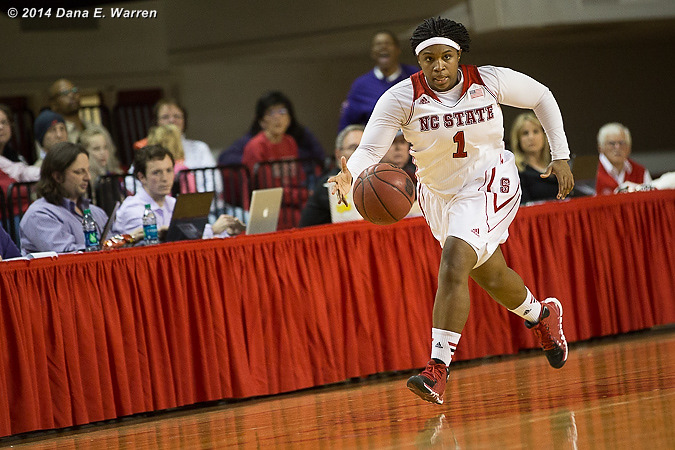 Myisha Goodwin-Coleman played all 40 minutes, scored 16 points, and surpassed 1,000 career points in NC State's 74-69 win over Wake Forest.
Photo by Dana E. Warren - view more at DEWShots.com
Please Support our Sponsor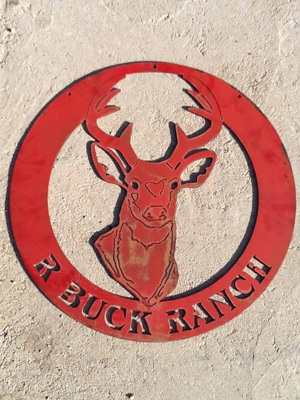 Click here to learn more about R Buck Ranch. Owned and operated by women's hoops fans, they offer premium hunting and fishing in the Heart of Texas!
---
Order ACC WBB 2014 Annual with Paypal!
It might have been a "trap" game for NC State, with a decent but not particularly scary Wake Forest team coming into Reynolds Coliseum after the Wolfpack won the season's first meeting in Winston-Salem. This is sort of a new experience for Wes Moore's Wolfpack, all this business about Top 15 rankings and 20-win seasons and fans expecting walkovers at home against decent basketball teams. But the Pack got through it, holding off the scrappy Deacons 74-69 to hold onto third place in the ACC.
NC State is awfully hard to beat when all four of its top scorers end up in double figures, and that's what happened Thursday night when seniors Markeisha Gatling, Myisha Goodwin-Coleman and Kody Burke and junior Len'Nique Brown all had 14 points. Any team in the country would have to worry about the bruising 6-5 Gatling, and then how to hold down three other scorers simultaneously becomes a major puzzle.
Wake's top two scorers - ascendant junior center Dearica Hamby and its institution of a starting guard Chelsea Douglas - each struggled for one half. And although the Deacons put together an heroic effort, they didn't have enough firepower to compensate.
And now, in the first week of February, the Wolfpack already has its first 20-win season since 2009-10, which was the team's most recent trip to the NCAA Tournament.
Top Performers:

Myisha Goodwin-Coleman, NC State. The sparkplug shooting guard became the 30th Wolfpack player to surpass the 1000-point barrier with a 16-point performance. Goodwin-Coleman, who played 40 minutes, was the first Wolfpack player to start hitting from outside after the Deacons locked down on Gatling.


Markeisha Gatling, NC State. She finished with a game-high 19 points including 8-for-12 from the floor. Her dominance in the paint forced the Deacons to choose between sagging in on her and running at the Wolfpack's shooters on the outside.


Len'Nique Brown, NC State. The little guard took over the game down the stretch, hitting all of her 14 points in the second half following some first-half foul trouble. Brown continues to establish herself as one of the ACC's top floor generals.


Honorable Mention: Kody Burke, NC State and Dearica Hamby, Wake Forest. Burke didn't have a good shooting night (5-for-16) but finished with 14 points and 11 rebounds, six of them offensive. Hamby, the ACC's leading scorer, finished with 15 points despite getting all kinds of attention inside as Chelsea Douglas struggled from the outside.
Top Performer Photos
Myisha Goodwin-Coleman, NC State
Markeisha Gatling, NC State
Len'Nique Brown, NC State
Photos by Dana E. Warren - view more at DEWShots.com
Game Analysis
Why NC State Won: Both sides said the Wolfpack played smarter. Gatling was dominant from the opening tip, and Goodwin-Coleman, Brown and Burke all followed with flashes of brilliance. This was a rare night on which the Wolfpack seemed to have a depth advantage against a good team.
Why Wake Forest Lost: For the Deacons to upset a ranked team, both Hamby and Douglas have to be "on" offensively and also get some help. Douglas scored only seven points in the first half and shot 5-for-17 from the floor. Hamby had only four points in the second and did not record an offensive rebound.
The Game Turned When...: Brown got on a roll in the second half. She scored her first points on a driving layup with 11:31 to go to make it 51-45, and the Deacons never made it a one-possession game again until the final minute.
Key Stat: Second-half rebounding. The Wolfpack had 24 rebounds to the Deacons' 14 when it mattered most.
X-Factor: he Wolfpack's home court. The fans have gotten better as the team has improved. State is 13-0 in Reynolds, the conference's only unbeaten home team besides 13-0 Notre Dame. The Pack host the Irish in the final game of the regular season, March 2.
Areas for Improvement: State still needs to stay out of foul trouble. Brown picked up two in the first half and played only seven minutes before the break, while Burke picked up her fourth with 7:05 to go and had to sit three key minutes. Meanwhile, Wake still needs to get more balanced scoring. Besides the "Big Two" Wake got only 31 points, just six of them off the bench.
Ramifications: NC State continued to hold serve in its unexpected race to finish in the conference's top four and get two days of byes in the ACC Tournament. Wake, meanwhile, is a game and a half out of the ninth spot that would get the Deacons a first-round bye.
They Said It: NC State coach Wes Moore: "Boy, what a grind, huh? Give Wake Forest a lot of credit. We did some good things. Getting four people in double figures with Kody having a double-double, Myisha having some big threes and Len'Nique really taking over the game down the stretch was big. And Keisha was Keisha. It was a good team win and we'll take it and move on."
Mike Potter is a 35-year sports writer in Raleigh who has covered ACC Women's Basketball as a beat writer for the past decade. Follow him on Twitter via @mikepotterrdu.