By Orin Day


Markeisha Gatling was too much for Boston College's post defense, scoring a game high 27 points as NC State won 85-76 in Raleigh.
Digest Photo by Orin Day
Please Support our Sponsor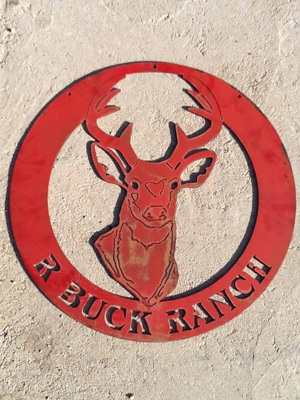 Click here to learn more about R Buck Ranch. Owned and operated by women's hoops fans, they offer premium hunting and fishing in the Heart of Texas!
---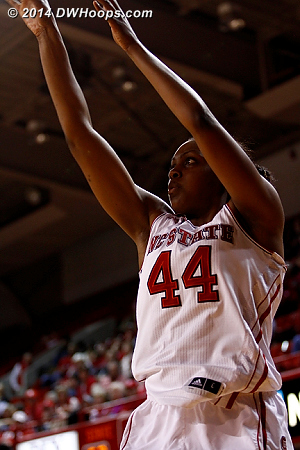 Kody Burke was the other NC State player to score in the 20's, stepping out for two three pointers in addition to being strong inside.
DWHoops Photo by Orin Day (more below!)

---
Order ACC WBB 2014 Annual with Paypal!
NC State's powerful inside game and the one-two punch of Markeisha Gatling and Kody Burke was too much for a hot shooting Boston College club to overcome, as the Wolfpack Women defended their home court 85-76. It was for the most part a very well played basketball game - 79% of baskets made were assisted, only 12 turnovers per team, and the foul totals were only inflated by BC's endgame. State led wire to wire, jumping ahead to a quick 9-0 lead that ironically proved to also be the final margin. That margin blossomed to 15-2, but the Eagles managed to chip into that lead once Myisha Goodwin-Coleman went to the bench with two fouls. It was 33-22 State when BC made threes on four of five possessions, and but for a charge by Emilee Daley after she dished to an open shooter, it could have been five straight. Len'Nique Brown joined MGC on the bench with her second with 2:14 left, forcing State to work harder inside. Gatling scored a traditional three point play on Kristen Doherty's second foul with 39 seconds left in the frame, but Kelly Hughes' third three of the half cut the Eagles deficit to 41-39 at the break. State's advantage in the paint was 16-4 while six different BC players had hit from long distance. The most galling for Wes Moore was Katie Zenevitch's perfect half from the floor, hitting two threes as State's bigs didn't keep up with her on the perimeter. Meanwhile State's bench took few shots and hit none, as 30 of the 41 Wolfpack points came from Burke (16) and Gatling (14).
BC cut it to one point with a Kelly Hughes three with 18:04 left in the game, but that was as close as it would get as BC's fouls mounted. The next possession was disaster for the visitors as State not only got a three, but also Doherty's third foul. The Pack pounded the ball into Gatling to draw Kelly Hughes' second, then Zenevitch charged into her third on the next possession. Karima Gabriel was an ineffective sub for Zenevitch, and back to back scores by MGC and a Gatling stickback stretched it to eight, time out BC. From then on sporadic Eagle threes weren't enough to dent that working margin, and the overmatched BC posts prompted a Pack parade to the line. And that parade was indeed effective, with NCSU at 22-26 from the stripe any comeback hopes were more smoke than fire.
Audio: Opening Statement from NCSU coach Wes Moore
Opening Statement from BC coach Erik Johnson

Top Performers:
Markeisha Gatling, NC State. 27 points, 9-13 FG, 9-10 FT, 7 rebounds, 4 assists. We are finally seeing the Gatling that the Pack faithful hoped for when she came to Raleigh last year. She's using her body effectively and finding the balance between aggressiveness and crossing the line into fouls. Her performance at the free throw line was a huge bonus, invalidating any potential "Hack-a-Gat" strategy.


Kody Burke, NC State. 24 points, 10-16 FG, 2-4 3FG, 11 rebounds. Burke was inside, outside, and everywhere, and while BC might have been able to address one big on her game, a second was backbreaking.


Kelly Hughes, Boston College. 23 points, 6-10 3FG, 3 assists. Coach Moore noted that this was another game where State's defense couldn't find the hot shooter, while BC's patient offense worked extremely hard to move that defense to find her wide open looks. Hughes is only a freshman, and with so many other BC bombers in play, she'll continue to give the rest of the ACC coaches fits.


Katie Zenevitch, Boston College. 19 points, 7-8 FG, 3-3 3FG, 3 assists. BC needs Zenevitch and Doherty healthy and on the floor at all times to remain competitive against the top 3/4 of the ACC. Her numbers were truly remarkable against State's posts and reflect desire and senior leadership as much as ability.


Honorable Mention: 8 assists from Krystal Barrett, Len'Nique Brown 9-10 FT in the second half.
Game Analysis
Why NC State Won: The combination of Gatling and Burke with both "on their game" was far too much for BC to handle, especially with each avoiding foul trouble. Even when one was were out of the game, Lakeesa Daniel was an effective and active substitute.
Why BC Lost: Looking past their 46% three point shooting mark (13-28), the Eagles shot only 10-32 from two point range. While Johnson's passed the ball very crisply and moved it as well as any team I've seen in person save UConn, several key second half turnovers and unnecessary poorly timed fouls doomed their comeback efforts.
The Game Turned When...: Zenevitch drew her third foul on a charge with 16:01 left, and State surged ahead while she sat.
Key Stat: NC State scored 36 of their 44 second half points in the paint or from the free throw line, exceeding BC's total for the entire game.
X-Factor: Boston College playing hurt. Kristen Doherty is tough as nails, but even with ribs tightly wrapped after clashes with ND, Duke, and UNC, she noticeably winced while shooting and taking free throws. Kat Cooper wasn't available due to an arm injury suffered in an entanglement with a UNC player, and her presence would have given BC one more player in the mix.
Areas for Improvement: Both teams lost possessions on offensive fouls. Better body awareness and becoming in tune with what the officiating crew has in mind on any given evening would make these two efficient offenses even more so. BC needs to get well. NC State needs to maintain the composure they lacked at Miami but found against BC on future road trips.
Ramifications: The Pack took care of business at home, absolutely necessary with Georgia Tech and Maryland up next. Coach Moore is looking to start a winning streak (audio), and doing so before their subsequent three against the bottom (Wake, @VT, @Clemson) would have huge post-season implications. While Boston College stands at 2-4, the majority of those losses came to top ten teams ND, Duke, and UNC - listen to coach Johnson's response to my question on that. They'll need to avoid any miscues against next three foes Wake, Pitt, and Virginia Tech to maintain their postseason hopes.
DWHoops Photos by Orin Day
Digest and DWHoops members can log in to view additional photos and larger versions. Member support makes this site possible!
Link to this Photo
NC State's pregame intros are traditional, well choreographed, and entertaining

NCSU Tags: Mascot Ms. Wuf
---
Link to this Photo
A three from Brown puts State up 9-0

NCSU Tags: #2 Le'Nique Brown
BC Tags: #15 Lauren Engeln

Link to this Photo
Burke from three stretches BC's defense to the breaking point. 12-2 Pack.

NCSU Tags: #44 Kody Burke
---
Link to this Photo
After one of her two made threes - 15-2 State

NCSU Tags: #1 Myisha Goodwin-Coleman
---
Support ACC WBB Digest! - Help Fund Our Future Coverage
---
Link to this Photo
Wes Moore can only smile as BC's center just drained a three

NCSU Tags: Head Coach Wes Moore
---
Link to this Photo
ACCWBBDigest Photo

NCSU Tags: #1 Myisha Goodwin-Coleman
BC Tags: #11 Nicole Boudreau

Link to this Photo
The pace was very deliberate for an 85-76 game

NCSU Tags: #2 Le'Nique Brown
---
Link to this Photo
One touch is allowed

NCSU Tags: #1 Myisha Goodwin-Coleman
BC Tags: #11 Nicole Boudreau
---
Support ACC WBB Digest! - Help Fund Our Future Coverage
---
Link to this Photo
Dribble, draw, distribute

NCSU Tags: #44 Kody Burke
BC Tags: #45 Katie Zenevitch
---
Link to this Photo
BC's hot hand was still heating up, but coach Hill recognized that she shouldn't be unguarded

BC Tags: #23 Kelly Hughes
---
Link to this Photo
BC's story might have been different if not for missed layups

BC Tags: #15 Lauren Engeln
---
Support ACC WBB Digest! - Help Fund Our Future Coverage
---
Link to this Photo
The drive to another missed layup

NCSU Tags: #12 Krystal Barrett
BC Tags: #22 Emilee Daley
---
Link to this Photo
Doherty drew this foul, but was clearly playing hurt

NCSU Tags: #2 Le'Nique Brown
BC Tags: #21 Kristen Doherty
---
Link to this Photo
Boudreau's normally sweet shot was off - 1-6 from downtown

BC Tags: #11 Nicole Boudreau

Link to this Photo
Burke would foul here

NCSU Tags: #44 Kody Burke
BC Tags: #45 Katie Zenevitch
---
Support ACC WBB Digest! - Help Fund Our Future Coverage
---
Link to this Photo
Foul #1 on Zenevitch - no chance at changing the outcome of the shot

NCSU Tags: #34 Markeisha Gatling
BC Tags: #45 Katie Zenevitch
---
Link to this Photo
When it's an open layup, Gatling doesn't have far to send it

NCSU Tags: #34 Markeisha Gatling

Link to this Photo
BC outrebounded State 19-13 in the first half

NCSU Tags: #34 Markeisha Gatling
BC Tags: #45 Katie Zenevitch
---
---
Support ACC WBB Digest! - Help Fund Our Future Coverage
---
Link to this Photo
It took less than a minute for Gabriel to be whistled for fouls 2 and 3

BC Tags: #25 Karima Gabriel
---
---
Link to this Photo
Hughes drawing attention from State's two bigs meant somebody else was open

NCSU Tags: #44 Kody Burke, #34 Markeisha Gatling
BC Tags: #23 Kelly Hughes
---
Support ACC WBB Digest! - Help Fund Our Future Coverage
---
Link to this Photo
The first half time out with little kids dancing along is always fun

NCSU Tags: NCSU Cheerleaders, NCSU Fans
---
---
Link to this Photo
The hot hand strikes again, and it's down to eight

NCSU Tags: #4 Ashley Williams
BC Tags: #23 Kelly Hughes
---
Support ACC WBB Digest! - Help Fund Our Future Coverage
---
---
Link to this Photo
Brown answers with a trey

NCSU Tags: #2 Le'Nique Brown
BC Tags: #22 Emilee Daley
---
---
Support ACC WBB Digest! - Help Fund Our Future Coverage
---
---
Link to this Photo
Tradition on the BC bench, drawing an offensive foul means high fives from the head coach

BC Tags: Head Coach Erik Johnson
---
Link to this Photo
Daley draws the foul

NCSU Tags: #41 Lakeesa Daniel
BC Tags: #22 Emilee Daley
---
Support ACC WBB Digest! - Help Fund Our Future Coverage
---
Link to this Photo
Halftime - both teams shot over 50% from three, 21 total assists vs. 12 turnovers

Link to this Photo
Burke draws first blood of the second half, 43-39 NCSU

NCSU Tags: #44 Kody Burke
---
---
Link to this Photo
Jockeying for position in the paint

NCSU Tags: #34 Markeisha Gatling
BC Tags: #21 Kristen Doherty
---
Support ACC WBB Digest! - Help Fund Our Future Coverage
---
Link to this Photo
Looks sensational, but Daley had already fouled

NCSU Tags: #34 Markeisha Gatling
BC Tags: #22 Emilee Daley, #23 Kelly Hughes
---
Link to this Photo
Gabriel came in after Zenevitch charged into her third, and drew a charge from Gatling

NCSU Tags: #34 Markeisha Gatling
BC Tags: #25 Karima Gabriel
---
Link to this Photo
Moore and Mike Murray not pleased with the charge call.

NCSU Tags: Head Coach Wes Moore
---
Support ACC WBB Digest! - Help Fund Our Future Coverage
---
---
Link to this Photo
Coach Moore receives the universal signal for "what do you want from me" from official Metta Roberts
---
Link to this Photo
Hand of friendship is a foul this year

NCSU Tags: #1 Myisha Goodwin-Coleman
BC Tags: #22 Emilee Daley

Link to this Photo
Putting the move on Boudreau

NCSU Tags: #1 Myisha Goodwin-Coleman
BC Tags: #11 Nicole Boudreau
---
Support ACC WBB Digest! - Help Fund Our Future Coverage
---
---
Link to this Photo
ACCWBBDigest Photo

NCSU Tags: #34 Markeisha Gatling
BC Tags: #45 Katie Zenevitch
---
---
Support ACC WBB Digest! - Help Fund Our Future Coverage
---
Link to this Photo
Len'Nique Brown was 9-10 from the line in the second half, here's one way she got there

NCSU Tags: #2 Le'Nique Brown
BC Tags: #11 Nicole Boudreau
---
Link to this Photo
Rebound battle

NCSU Tags: #41 Lakeesa Daniel
BC Tags: #13 Alexa Coulombe

Link to this Photo
An absolutely tremendous save by Brown that shows up in no box score, but was a huge lift for the Pack

NCSU Tags: #2 Le'Nique Brown
BC Tags: #11 Nicole Boudreau
---
Link to this Photo
Hughes not happy to be there too late?

NCSU Tags: #2 Le'Nique Brown
BC Tags: #23 Kelly Hughes

Link to this Photo
Daniel got in on the NCSU free throw party, 3-4 in the second half

NCSU Tags: #41 Lakeesa Daniel

Link to this Photo
Spencer all business on the blocks

NCSU Tags: #3 Miah Spencer
BC Tags: #22 Emilee Daley
---
Support ACC WBB Digest! - Help Fund Our Future Coverage
---
Link to this Photo
We need a nickname for the Gatling and Burke tandem a la State legends Corchiani (Fire) and Monroe (Ice).

NCSU Tags: #44 Kody Burke
---
Link to this Photo
BC couldn't maintain their torrid first half shooting pace

NCSU Tags: #44 Kody Burke
BC Tags: #22 Emilee Daley

Link to this Photo
Doherty did get to the line, but wasn't comfortable there

BC Tags: #21 Kristen Doherty
---
Link to this Photo
State closed it out with some excellent free throw shooting

NCSU Tags: #34 Markeisha Gatling
---
Support ACC WBB Digest! - Help Fund Our Future Coverage
---
Link to this Photo
ACCWBBDigest Photo

NCSU Tags: #34 Markeisha Gatling
BC Tags: #45 Katie Zenevitch
---
Link to this Photo
Swish - 73-60 Pack with 3:35 left - but BC's not quitting

NCSU Tags: #1 Myisha Goodwin-Coleman
---
Link to this Photo
An offensive foul on Barrett

NCSU Tags: Head Coach Wes Moore, #12 Krystal Barrett
---
Support ACC WBB Digest! - Help Fund Our Future Coverage
---
Link to this Photo
Goodwin-Coleman fouled out with 1:33 left

NCSU Tags: #1 Myisha Goodwin-Coleman
---
Link to this Photo
ACCWBBDigest Photo

NCSU Tags: #2 Le'Nique Brown
BC Tags: #15 Lauren Engeln

Link to this Photo
Still getting open looks in the final minute, this would have cut it to five

NCSU Tags: #12 Krystal Barrett
BC Tags: #21 Kristen Doherty
---
---
Support ACC WBB Digest! - Help Fund Our Future Coverage
---
---
Link to this Photo
Celebrating the win the NC State way

NCSU Tags: Head Coach Wes Moore, Assistant Coach Nikki West

Link to this Photo
Win or lose, always a top interview. If you didn't hear the audio linked above, be sure to check it out

BC Tags: Head Coach Erik Johnson
---
---
Support ACC WBB Digest! - Help Fund Our Future Coverage
---
Link to this Photo
Be sure to check out the audio links of Coach Moore's comments above

NCSU Tags: Head Coach Wes Moore