By JP Mundy, Photos by Dana E. Warren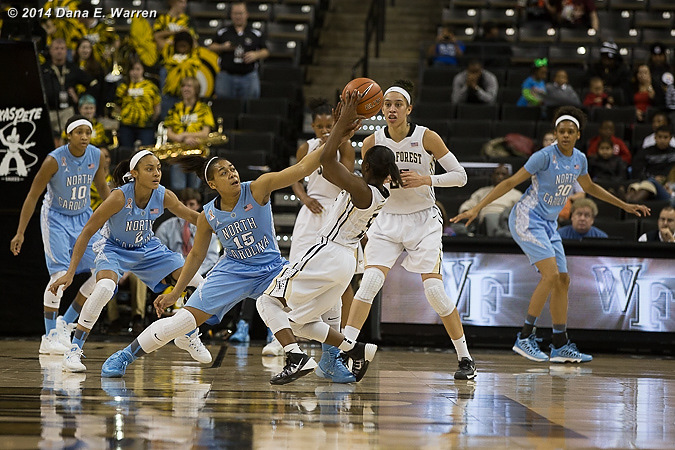 Allisha Gray (15) and North Carolina harassed Wake Forest into 27 turnovers en route to an 83-65 victory.
Photo by Dana E. Warren - view more at DEWShots.com
Please Support our Sponsor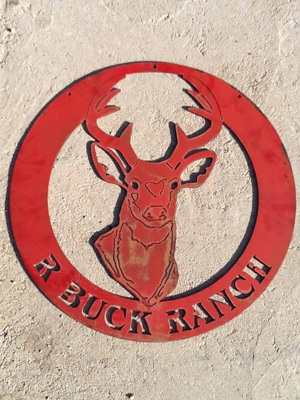 Click here to learn more about R Buck Ranch. Owned and operated by women's hoops fans, they offer premium hunting and fishing in the Heart of Texas!
---
Diamond DeShields shoots over Kandice Ball in North Carolina's 83-65 win at Wake Forest. DeShields scored 19 points, and is nearly averaging that output in conference play.
Photo by Dana E. Warren, DEWShots.com
---
Dearica Hamby continued her statistical tear through the ACC, posting her 15th double-double in the losing effort.
Photo by Dana E. Warren, DEWShots.com
North Carolina finished on a 27-8 run and the No. 7 Tar Heels finally dispatched the pesky Wake Forest Demon Deacons 83-65 on Thursday night in Winston-Salem. Wake Forest raced out to an early 7-0 lead before UNC finally found its footing to pull even. The game was nip-and-tuck throughout, and the Tar Heels didn't take their first double-digit lead until there was only 3:09 remaining.
The Tar Heels were led by sensational freshmen Diamond DeShields and Allisha Gray, who each finished with 19 points on the evening. The Heels had two other players in double figures, Xylina McDaniel and Stephanie Mavunga, who finished with 12 apiece.
Junior Dearica Hamby led the Deacons with 22 points and 11 rebounds, her 15th double-double of the season. Senior guard Chelsea Douglas appears to be officially out of her slump, hitting 3 three-pointers en route to 20 points.
North Carolina took advantage of 27 Wake Forest turnovers, converting the miscues into 35 points. Wake Forest's free throw woes continued once again, leaving 10 points at the line on 6-16 shooting. The Heels owned the paint and the transition game, though their fast-break points (26) were padded in the closing minutes.
Top Performers
Diamond DeShields, UNC. 19 points, 7 rebounds, 3 steals. DeShields continued her sensational freshman season. The only thing that stopped her Thursday night was foul trouble. DeShields sat significant minutes in the second half after picking up her third personal foul.


Allisha Gray, UNC. 19 points, 3-5 from 3-point range, 5 rebounds. When the Deacs would make a run to get it close, Gray and her outside shot were there to stem the tide. Gray also dished out 2 assists.


Dearica Hamby. 22 points, 11 rebounds. Hamby recorded her 15th double-double of the season, taking advantage of the mismatches inside. No matter who UNC rotated over to help, Hamby was a step quicker to the rim.


Game Analysis
Why UNC won: UNC scored 35 points off of turnovers, and got 30 points from their considerable bench.
Why Wake Forest Lost: 27 turnovers will get you killed in this league, and it eventually sealed the Deacons' fate on Thursday. Wake also went 6-16 from the line, far short of their already league-worst free throw percentage.
The Game Turned When...: The Tar Heels went on a 19-2 run following a Chelsea Douglas trey which tied the game at 56 with 8:22 remaining. North Carolina turned up the pressure, and the Deacs turned the ball over. And over. And over.
X-Factor: Kandice Ball missed 4 consecutive free throws on the ensuing Wake Forest possessions after Douglas tied the game. You could almost feel the momentum wrenched out of the Joel with each miss.
Areas for Improvement: UNC is athletic and attacks the rim, but this young team has to stay out of foul trouble; Wake Forest needs to stay aggressive but value the basketball and eliminate the turnovers. Did I mention free throws?
Ramifications: UNC keeps rolling right along, as the No. 7 Tar Heels win their 12th of their last 13 games. They spend the next two games at home, against Syracuse and Miami. If Wake Forest shows a spark leading up to March, they may look back at this game as the catalyst. Coach Jen Hoover has implored her group to figure it out before they get to Greensboro, where they've had some success the last few seasons.
The Digest is delighted to welcome the contributions of writer JP Mundy and photographer Dana E. Warren. We encourage you to follow @JP_Mundy on Twitter, and you can view more of Dana's fantastic sports photos at DEWShots.com