By Rob Clough


Digest ACC Power Rankings
Through January 22, 2014


---

#1
17-0,
4-0

Last:
@PITT (W, 109-66)
@TENN (W, 86-70)
Next:
1/23 MIA (RSN)
1/27 @MD (ESPN2)

---

#2
18-1,
5-0

Last:
UVA (W,90-55)
@VT (W, 76-72)
Next:
1/23 FSU (ESPN3)
1/26 PITT

---

#3
16-1,
4-0

Last:
SYR (W, 77-62)
GT (W, 92-81)
Next:
1/23 @UVA (RSN)
1/27 ND (ESPN2)

---

#4
16-3,
4-1

Last:
CLEM (W, 78-55)
@BC (W, 73-56)
Next:
1/23 @WAKE
1/26 open

---

#5
16-3,
3-2

Last:
FSU (W, 80-57)
@MIA (L, 80-71)
Next:
1/23 BC
1/26 @GT

---

#6
11-7,
3-2

Last:
@BC (L, 63-62)
NCSU (W, 80-71)
Next:
1/23 @ND (RSN)
1/26 @CLEM (ESPN3)


---

#7
13-5,
2-3

Last:
@MD (L, 77-62)
@PITT (W, 58-47)
Next:
1/23 CLEM
1/26 UVA (RSN)

---

#8
12-6,
2-3

Last:
WAKE (W, 79-63)
@MD (L, 92-81)
Next:
1/23 @VT
1/26 NCSU

---

#9
11-8,
2-3

Last:
MIA (W, 63-62)
UNC (L, 73-56)
Next:
1/23 @NCSU
1/26 WAKE

---

#10
14-4,
2-3

Last:
NCSU (L, 80-57)
@UVA (L, 85-68)
Next:
1/23 DUKE (ESPN3)
1/26 VT

---

#11
9-9,
2-3

Last:
@DUKE (L, 90-55)
FSU (W, 85-68)
Next:
1/23 MD (RSN)
1/26 @SYR (RSN)

---

#12
10-7,
0-4

Last:
DUKE (L, 74-70)
Next:
1/23 GT
1/26 @FSU (ESPN3)

---

#13
9-10,
1-4

Last:
@ND (L, 109-66)
SYR (L, 58-47)
Next:
1/23 open
1/26 @DUKE

---

#14
10-8,
1-4

Last:
@GT (L, 79-63)
@CLEM (W, 68-61)
Next:
1/23 UNC
1/26 @BC

---

#15
9-10,
1-4

Last:
@UNC (L, 78-55)
WAKE (L, 68-61)
Next:
1/23 @SYR, 1/26 MIA (ESPN3)

---

Editor's Note: Our sidebar is presented in pink in
remembrance of Kay Yow
Parsing The Week's Results:
Notre Dame overtook Duke to claim the top spot in our ACC Power Rankings. That's thanks in part to Notre Dame's excellent week (see below), but it's also because of Duke's near-disaster in Blacksburg. After crushing Virginia in every phase of the game at home (Recap & Photos), Duke figured to have no problems with a team that came into the game 0-3 in the ACC. The first half certainly played out that way, with Duke going up by 15 thanks to threes dropping in from everywhere. Then the Hokies quickly started chipping away at the lead behind Uju Ugoka's incredible 29 points and 11 rebounds (including her first career three pointer) and Vanessa Panousis' gutty 21 points. Duke missed 13 free throws and coughed up the ball a lot down the stretch before Tricia Liston and Ka'lia Johnson hit key foul shots down the stretch to seal the Blue Devils' escape.
Other returns in the ACC were mixed. Miami dropped a heart-breaker to Boston College despite putting four players into double figures. The Canes had two cracks at the basket to win the game but couldn't get a shot to drop. Their poor shooting doomed them against a BC team that hung on to earn a huge victory despite massaging their way through foul trouble throughout the contest. The Canes made up for that loss by upsetting NC State (see "Worst Loss" below). Meanwhile, that BC win was crucial after UNC bullied them all over the floor and took away their three point offense (just 5-20). The Heels didn't fool around against overmatched opponents in Clemson and Boston College, getting great games from Allisha Gray and the now-expected all-around excellence from Diamond DeShields.
Florida State had a rough week, getting trounced by NC State (41% from three compared to 2-12 for FSU). The Noles short bench looks like it might be starting to take its toll in these close games. That was especially true against Virginia, a team hungry for redemption after being humiliated by Duke. The Hoos shot 10-19 from long range, and this is not a team known for its shooting. Meanwhile, only Natasha Howard and Emiah Bingley could do much on offense for the Seminoles, who have lost three straight. Virginia got a much-needed dose of confidence with a quality win. Syracuse took care of Pitt in an ugly game that the Orange needed given that they also had to play Maryland this week. Frosh Brianna Day helped the usual Brianna Butler/Brittney Sykes combo eke out the low-scoring win. Georgia Tech similarly knocked off Wake Forest in a more pleasing win as Kaela Davis continued her rampage through the ACC, scoring 23 points. Dearica Hamby had her usual great game with 23 points and 13 rebounds.
Best Win: Notre Dame 86, Tennessee 70. This is the win that vaulted the Irish into the power poll's top spot again. After weeks of coasting against lesser competition, Notre Dame went up against a top 15 team on the road, and got knocked back to start the game. Tennessee absolutely shot lights out against them and the Irish weren't ready. It didn't help that star guard Jewel Loyd was out of the game with foul trouble at the time, and the Lady Vols took full advantage of that situation. Notre Dame then slowly chipped away until they closed within five at the half. The Lady Vols regressed back to the mean while the Irish bombed away from three and got an astonishing 36 points from its bench (Michaela Mabrey had 15, Madison Cable 12 and Taya Reimer 9). Tennessee couldn't keep up with that onslaught as the Irish dished out 23 assists on their 34 field goals, and will continue to lead the nation in assists per game. Notre Dame proved they were ready for this game by shooting 61% against Pitt in its previous contest, blasting them with 109 points. If you're going to beat Notre Dame this year, you'd better have multiple players who can fill it up. One caveat: Loyd hurt her ankle later in this game and is listed as day-to-day.
Worst Loss: Miami 80, NC State 71. This game spotlighted a key flaw for NC State: when their shooters aren't hitting, they can't beat good opponents. Starting guards Krystal Barrett, Myisha Goodwin-Coleman and Len'Nique Brown combined to go 3-11 from long range, and bench specialist Miah Spencer was just 0-1. Meanwhile, the Canes shot 11-27 from three (essentially neutralizing NC State's considerable size advantage) and turned the ball over just eight times. Beating teams in their peer group on the road will be a necessity for any such team that wants to separate itself from the rest. NC State failed this first test.
Trending Up: Maryland. Meanwhile, the Terps continue to quietly win game after game and get increasingly positive contributions from its bench. The Terps played a couple of solid teams at home in Georgia Tech and Syracuse. Both of those teams are in the ACC mishmash that represents the five through ten spots in the league; any one of those teams is capable of punching up to beat a better opponent or letting a lesser opponent take them down. Maryland punished Syracuse inside, thanks to the 18 points and 10 rebounds from big frosh center Brionna Jones. Maryland's post dominance and ability to take care of the ball (just 9 turnovers against a team that loves to press) offset a poor shooting performance. Brianna Butler and reserve Alexis Peterson played well for the Orange, but those are the only players who showed up. Georgia Tech came in with the intention of being physical, and that's what they did, to the tune of committing 32 fouls, having three players foul out and sending the Terps to the line 43 times. The strategy had its moments, as the Jackets won the rebounding battle (Ty Marshall had a double-double with 22 points and 14 rebounds) and turned Maryland over 23 times, but they incredibly only had 4 more field goals made than Maryland despite getting 31 more attempts! Maryland went eleven deep in this game and has the luxury of being able to use three different point guards, going with whoever has the hot hand. It's a huge contrast from their 2013 M*A*S*H situation, and as a result the Terps are getting better on a game to game basis.
Trending Down: Clemson. The Tigers are last in the power poll once again thanks to losses to UNC and Wake Forest. The UNC game was respectable initially, but the Heels' dominance on the glass proved to be too much for the smaller Tigers, playing without Quinyotta Pettaway. What put them in the basement was their loss to fellow bottom-feeder Wake Forest. Nikki Dixon battled valiantly in both games, averaging 20 ppg during the week, but she was Clemson's only reliable scorer, and fouled out with over four minutes left against Wake Forest. Even with that loss, the Tigers' 61 points might have been enough to win. But not with Wake's Dearica Hamby absolutely destroying Clemson's front line to the tune of 29 points, 18 rebounds and 4 blocks. It also didn't help that designated shooter Kelly Gramlich was 1-18 last week, and 0-13 from three.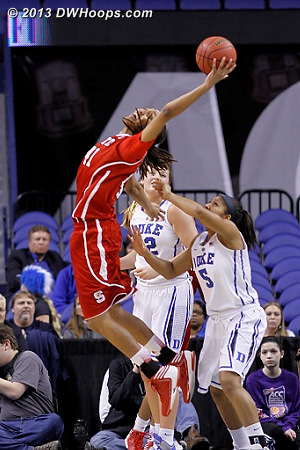 Lakeesa Daniel, NCSU
(File Photo by Orin Day)


Surprise Player Of The Week: Lakeesa Daniel, NC State . Her 13 points and 8 rebounds proved to be a crucial x-factor against a Florida State team that trotted out huge Kai James. With Markeisha Gatling in foul trouble, NC State was able to maintain control of the paint thanks to Daniel's play. Honorable Mention goes to Faith Randolph, our Surprise Player last week who once again had double digit output against Duke and Florida State - but would a repeat winner be a surprise to our regular readers? We think not.


Stat Of the Week: 18. This is the number of players who had double-doubles this week.

Five Games To Watch (by Orin Day):
Maryland @ Virginia (1/23, 6:30 pm, RSN): After tonight, this storied ACC women's basketball rivalry will join Cole Field House and University Hall on the scrap heap of memories as the world moves on yet again. Will Virginia be able to reverse their up-and-down trend with an even bigger upset? Will the Terps bus make it safely through the mid-Atlantic snowdrifts? Tune in to find out.


Duke @ Florida State (1/23, 7:00 pm, ESPN3): Both teams look to bounce back from poor outings in the Commonwealth. You can read the DWHoops preview here.


Miami @ Notre Dame (1/23, 8:30 PM, RSN): Notre Dame is a perfect 4-0 in the ACC, but this is their first test against a team from the top half of the league. While they'll be favored, the possible absence of Jewel Loyd could make this closer than otherwise expected. When Katie Meier took the Miami job, did she ever expect to coach an ACC game within easy driving distance from her native Chicagoland? The Digest thinks not, and that she'll be well supported by friends and relations.


Virginia @ Syracuse (1/26, 2:00pm, RSN) : A key contest for Syracuse to assert itself in the mid-level of the ACC, and for Virginia continuing to claw for post-season hopes.


Notre Dame @ Maryland (1/27, 7pm, ESPN2) : This will be Notre Dame's first test against the top of the ACC as a conference member, and it comes on the road. While the Irish had little trouble going through Maryland and Duke to reach their last two Final Fours, the since-departed Skylar Diggins played a key role in those triumphs This game will be a key barometer for both teams, and the first of a run of made-for-ESPN weekly ACC elite matchups from now to season's close.
---
On Thursday, Orin will be covering Boston College at NC State, while JP Mundy will contribute his report from North Carolina at Wake Forest. On Sunday, Orin and Rob will blanket Pitt at Duke for DWHoops, with a recap and a Panther-centric gallery seconded to the Digest. And, of course, the Weekly Digest will return.