By Rob Clough


Digest ACC Power Rankings
Through January 7, 2014


---

#1
14-1,
1-0

| | |
| --- | --- |
| Last: | @GT (W, 64-47) |
| Next: | 1/9 @SYR, 1/12 BC (RSN) |

---

#2
13-0,
1-0

| | |
| --- | --- |
| Last: | CLEM (W, 71-51) |
| Next: | 1/7 BC, 1/12 @UVA |

---

#3
13-1,
1-0

| | |
| --- | --- |
| Last: | @UNC (W, 77-70) |
| Next: | 1/8 WF |

---

#4
12-3,
0-1

Last:
MD (L, 77-70)
Next:
1/9 NCSU (ESPN3)
1/12 @FSU (RSN)

---

#5
13-1,
1-0

| | |
| --- | --- |
| Last: | @PITT (W, 84-53) |
| Next: | 1/9 @MIA, 1/12 UNC (RSN) |

---

#6
14-1,
1-0

Last:
CUSE (W, 67-61)
Next:
1/8 @UNC (ESPN3),
1/12 @WF

---

#7
11-3,
0-1

| | |
| --- | --- |
| Last: | @NCSU (L, 67-61) |
| Next: | 1/9 Duke, 1/12 GT |

---

#8
10-4,
0-1

| | |
| --- | --- |
| Last: | DUKE (L, 64-47) |
| Next: | 1/8 @CLEM, 1/12 @SYR |

---

#9
10-5,
1-0

Last:
VT (W, 70-63)
Next:
1/9 @ND
1/12 @DUKE (RSN)

---

#10
9-5,
1-0

| | |
| --- | --- |
| Last: | @WF (W, 84-53) |
| Next: | 1/9 FSU, 1/12 @VT |

---

#11
10-4,
0-1

| | |
| --- | --- |
| Last: | @BC (L, 70-63) |
| Next: | 1/8 UVA, 1/12 MIA |

---

#12
9-7,
1-1

Last:
FSU (L,78-69),
@UVA (W, 79-75)
Next:
1/12 @CLEM

---

#13
9-5,
0-1

| | |
| --- | --- |
| Last: | MIA (L, 84-53) |
| Next: | 1/9 @MD, 1/12 NCSU |

---

#14
7-7,
0-1

| | |
| --- | --- |
| Last: | PITT (L, 79-75) |
| Next: | 1/9 @VT, 1/12 ND |

---

#15
8-7,
0-1

| | |
| --- | --- |
| Last: | @ND (L, 71-51) |
| Next: | 1/8 GT, 1/12 PITT |

---

Editor's Note: Our sidebar is presented in pink in
remembrance of Kay Yow
Editor's Note: This week we return to our every Wednesday publication schedule, which will continue throughout the remainder of the ACC regular season.

Parsing The Week's Results:

Life at the top wasn't too difficult in the first week of conference play in the ACC. Duke won a tune-up against Old Dominion (DWHoops Recap, Photos) and then dominated Georgia Tech in Atlanta for their 36th consecutive win against the Jackets (DWHoops recap). A couple of scoring spurts were all that Duke needed to keep the young and athletic Tech team at arm's length the rest of the way. Elizabeth Williams had a double-double in both contests, something she had not accomplished all season. Notre Dame demolished South Dakota State and then beat Clemson in a game that was far closer than the final margin of twenty points. Guards Chancie Dunn and Kelly Gramlich really took it to the Irish for a combined 23 points, which was important because Nikki Dixon got in severe foul trouble. Meanwhile, Irish post Natalie Achonwa was steady as she goes, dominating opponents in the post at both ends. This was a game after Clemson put up huge numbers against NJIT, so perhaps simply seeing the ball go through the hoop a bunch of times translated a bit to their game with the Irish.

I discuss most of the rest of the ACC below, but I did want to talk about Florida State, Virginia and Pitt here. The Panthers, widely predicted to be the ACC's cellar-dweller this season, gave Florida State all they wanted in the ACC's first game this season. Florida State missed 16 free throws and star forward Natasha Howard fouled out in just 25 minutes of play (with 27 points!), so it's understandable that a team with a short bench should struggle a bit in that situation, especially on the road. Still, FSU had three other players in double figures and a combined 14 points from its bench. On the other hand, Pitt coming into Charlottesville and coming away with a tight win is a significant setback for a Virginia team that had been showing signs of life. They were torched by Pitt point guard Brianna Kiesel (26 points, 7 assists) who carved up the Hoos down the stretch. The Hoos lost despite monster games from Faith Randolph and Kelsey Wolfe (21 points apiece). Three other Panthers scored in double figures and the team shot 55% against a Virginia team that's supposed to be known for its defense. This is a building-block win for Suzie McConnell-Serio's Panthers and a cause for major soul-searching by UVa coach Joanne Boyle.

Best Win: Maryland 79, UNC 70. It was no surprise that veterans Alyssa Thomas and Katie Rutan had strong performances against the Heels. However, Maryland's frosh class proved to be the difference in a strong road win against the Heels. Shatori Walker-Kimbrough contributed deadly shooting off the bounce, Brionna Jones' size and power hurt the smaller Heels inside, and point guard Lexie Brown was steady as she goes in running the team. Maryland still has some issues (they are not especially quick at all positions and foul too much), but there's no question that this is a team to reckon with now. The best news for the Heels was that after falling behind by double figures, they were able to cut Maryland's lead to six in the second half. The other good news was the return of frosh Diamond DeShields. While her shot selection remains suspect (3-13 from the field, no doubt influenced by wearing a huge wrap on her non-shooting hand), her quickness off the dribble and ability to get to the rim were greatly missed in UNC's near-collapse against James Madison. DeShields' ability to wreak havoc on defense was also missed, and there's no question that her mere presence resulted in a better defensive showing against the Terps. (Click here for Digest full recap, analysis, and photos)

Worst Loss: Penn 67, Miami 66. A team that's serious about making it to postseason play should not lose to an Ivy League opponent. They should especially not fall behind by double figures early in the game and have to scrap and claw their way back in. They shouldn't allow that team to shoot 11-23 from the three point line, nor should they make several crucial errors down the stretch once they've regained the lead. To their credit, the Hurricanes bounced back in a big way by crushing a Wake Forest team whose star guard, Chelsea Douglas, was feeling under the weather. Absent her opposite number, Miami's Suriya McGuire dominated the Deacs in that game. Miami still has a lot of work to do, but they did earn an important win. (Click here for Digest full recap, analysis, and photos)

Trending Up: Boston College. The Eagles used the muscle of Katie Zenevitch (29 points) to rout Mount St. Mary's, then used great outside shooting (38%) and precision (just 7 turnovers) to protect their home court from a solid Virginia Tech squad. The Eagles had four players in double figures in both games, but it wasn't the same four players. That's a tribute to getting just enough help from the bench to compete at a solid level.

Trending Down: Virginia Tech. The Hokies have hit their first batch of extended adversity. How they react will likely determine their ultimate ACC fate. They got whipped by solid mid-major program Hampton and then got handled by Boston College. The common factor in both games is that forwards Taijah Campbell and Hannah Young shot poorly and generally didn't pull their own weight. That duo has been responsible for many of VT's wins this year, but it's obvious that the Hokies can't afford slumps.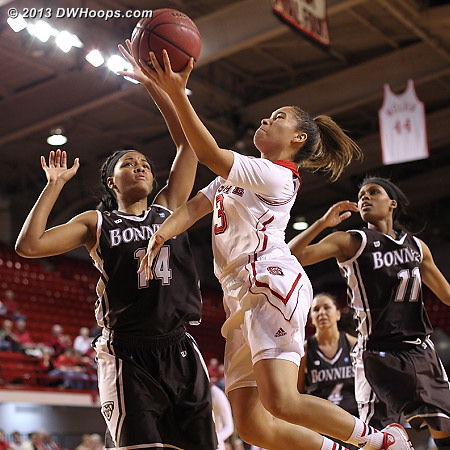 Miah Spencer, NC State
(Photo by Orin Day)

Surprise Player Of The Week: Miah Spencer, NC State. The Wolfpack Women protected their home court against a tough Syracuse squad, thanks in part to frosh Spencer hitting the go-ahead shot with a minute to play. With 12 points off the bench, she was State's only reserve who made a significant impact, which was important because the Orange's bench scored 22 points. They also managed to foul out Syracuse star Brittney Sykes, who was just 4-15 from the field. The Pack exploited the Syracuse zone by gobbling up 15 offensive rebounds; those extra shots essentially won the game for them.

Stat Of the Week: 11-54 That was the combined shooting by all of Georgia Tech's guards against Duke. Superfrosh Kaela Davis was 2-14 from the field, and had her lowest scoring output (7) of the season. It was the first time she was held to single figures in her budding career.

Five Games To Watch (1/8 - 1/15):
NC State @ UNC (1/9, 6pm, ESPN3) This is the game that will determine if NC State is ready to compete with the league's elite teams. The Pack have always played UNC tough no matter their records or venue, so this has the potential to be a great game. The key factor here is speed: UNC is quicker than any opponent NC State has seen this year, and they are pretty much the slowest team in the ACC. This is a game where we'll see if spacing and size can beat speed. The Digest will be in Chapel Hill and will publish a full recap, analysis, and photos.


Duke @ Syracuse (1/9, 7pm) Duke has been solid on the road this year and will once again be facing a deep, athletic team that loves to run and press. The difference between Syracuse and Georgia Tech is that the Orange have post players to throw the ball in to. The key to this game won't be so much how many points Duke scores via jump shots, but how well they attack the boards to get second shots. The Orange don't generally have much of a home court advantage, but the Carrier Dome promises to have a couple of thousand more people than usual in it for this one.


Virginia @ Virginia Tech (1/9, 7pm) This is an early status check game for both teams. For the Hoos, getting a road win against their arch-rival would ease some of the sting of their loss to Pitt. It's a game that they can win. For the Hokies, they're in a spot where too much of the work is being done by Uju Ugoka and Monet Tellier and too little is being done by the rest of the team. In theory, the Hokies match up extremely well with the Hoos, especially in the post. If Virginia Tech can get at least three players into double figures, then they should win. Otherwise, the Hoos will find a way to cobble together enough points to squeak it out.


Pitt @ Clemson (1/12, 2pm) This is a test game for Pitt. They've already picked up one ACC road win against a lower-echelon club, and Clemson provides a great opportunity to get another. The formula will be simple: overwhelm Clemson with its guard play and get multiple players into double figures by featuring Kiesel prominently. If Nikki Dixon can stay on the floor, she may be too quick for the Panthers to handle. Pitt's experience will likely win out here.


Miami @ Virginia Tech (1/12, 3pm) This is a rare week to feature Virginia Tech twice, but these two teams will be jostling for position all season long. Sweeping this week's games would give the Hokies a big boost, while Miami is trying to follow up a conference-opening win against a depleted opponent against a team that matches up extremely well with them.
---
If you enjoy our weekly Digest, please support our work by ordering our 2014 ACC Annual for just $6.95. The Annual contains all the information you'll need to follow the league's 15 teams throughout the season! Your purchase also includes a free site membership good through November 17, 2014!
Buy ACC WBB 2014 Annual with Paypal!
---