By Rob Clough, Photos by Orin Day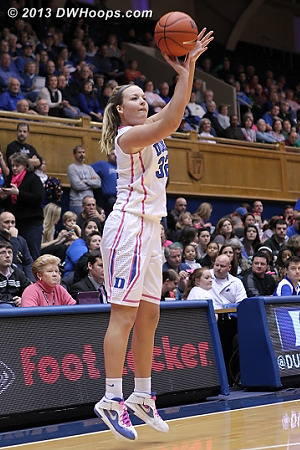 Tricia Liston scored a career high 29 points as Duke battled back from an early deficit to defeat Wake Forest, 81-70.

---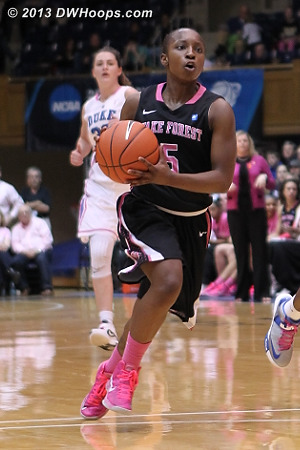 Chelsea Douglas put up a team high 24 points for Wake Forest, shooting a blistering 5-7 from behind the arc.

---
Haley Peters notched a double-double for Duke with 13 points and 12 rebounds. DWHoops photos by Orin Day
Obviously, the injury to Chelsea Gray overshadows everything else about Duke's win over Wake Forest, though it should be noted just how tough the team was to be able to absorb the loss of their leader and catalyst against an opponent that was playing with great confidence. As it stands, Gray dislocated her right knee when she was fouled going for a rebound. Duke's staff was able to snap the patella back into place and Gray was able to put some weight on it as she walked off the court on crutches at the end of the game. However, the extent of the injury will not be known until an MRI is performed to see if there's ligament damage. If there's a tear to a ligament, then her season is obviously over. If there isn't damage, then there's a chance she could come back for the postseason. The Devils will have to figure out a way to beat four tough opponents in the regular season and prove that they're still a good team without Gray. Today's game against Wake led into that process.
Duke came in having beaten Wake 38 straight times (dating back to 1993, before some of the players in the game were born!) and held an incredible 119-game winning streak in Cameron against unranked opponents (last loss was to South Carolina in 2002). Two things happened at the beginning of the game that made it close: Wake scored the first eight points of the game thanks to patient inside-outside play and a lot of energy from center Sandra Garcia (not always a given), and Elizabeth Williams blew four straight open layups. If Duke had simply held serve and stayed close right away, then their run in the middle of the first half would have blown the game open. Instead, it merely served to tie things up.
Wake is a team that's depended on momentum and confidence for much of the year. When they play as a unit, they can be pretty potent on the offensive end. What they lack is a defensive stopper of any kind. Of course, if they're hot and their opponent is cold or their press generates turnovers, then Wake has the potential to beat good teams (see: Florida State). Against Duke, they were able to establish Garcia early, get lucky with E. Williams missing shots, and then use Asia Williams to penetrate and pitch to open shooters like Chelsea Douglas (a trio of treys in the first seven minutes of the game) as Wake took an 11 point lead. Indeed, Asia Williams wound up with 10 assists as a result of Duke overplaying her and the Deac shooters hitting open shots.
Gray led the charge in Duke's first half comeback, finding Allison Vernerey in transition with a no-look pass and hitting 2 free throws. Chloe Wells also came up with a couple of steals, and the Devils were able to take the lead thanks to a pair of shots by Haley Peters. Duke had a 22-20 lead when Gray went down, but quickly rallied after Wake tied it up, bringing forth a 15-6 run to conclude the half. Peters scored 6 points during the run and Richa Jackson four. In the second half, the Devils pushed the lead up to 13 thanks to a couple of wide-open threes from Liston, let the lead dwindle to 7, then pushed it back up to 13 thanks to a big trey by Wells and a stickback by Liston. That's when Wake made their move, going on a 16-3 run over the next four minutes, thanks to 11 points from red-hot Douglas. That knotted the game at 52, one of four times the Deacs tied the score in the second half. Wake was never able to regain the lead, however, and that proved to be a psychological boost for a Duke. Wake used up a lot of energy making their comebacks, but could never get over the hump.
After Wake tied the game at 67 with 3:25 to go, Williams stepped up and hit 2 clutch free throws. A.Williams threw a pass out of bounds, and Duke made them pay with a well-executed play with Liston hitting a three on a pass from Jones. Haley Peters then came up with a steal in traffic and Liston got fouled going up at the other end to make it 74-67. Lakevia Boykin hit a three with 1:21 left, but Duke was 6-7 from the foul line down the stretch while Wake put up some panicky shots. The Devils gave up 56% shooting in the second half and 54% from three but survived it by going 19-23 from the foul line and hitting a quintet of treys.
Top Performers:
Tricia Liston, Duke. 29 points, 9 rebounds, 2 assists. She put Duke on her back and hit a number of key shots down the stretch.


Chelsea Douglas, Wake Forest. 24 points, 2 rebounds, 2 assists. Her quick start pushed Duke back and gave the Deacs confidence. The Devils needed to account for her at all times, and she made them pay when they didn't.


Haley Peters, Duke. 13 points, 12 rebounds, 3 assists, 2 steals. Not a great shooting game (4-12), but she did all the little things to help her team win.
Game Analysis
Why Duke Won: Duke won because of experience and discipline, plain and simple. Without their leader Chelsea Gray (who is also an underrated defensive presence), they were able to get the ball into the hands of the right people (Liston and Williams) at the right time, and big shots were made. When it counted, Duke took advantage of Wake's mistakes and came up with huge defensive plays.
Why Wake Forest Lost: They fell into a hole one too many times and panicked a bit down the stretch, taking quick and long shots instead of being patient the way they had been for most of the game. That was especially true of Lakevia Boykin, who took a long, contested three when Duke was up by 5. The Deacs couldn't keep Duke away from the offensive boards (18-8). Otherwise, Wake was pretty even with Duke in most categories.
The Game Turned When...: Tricia Liston hit a three with 2:15 to go. That put Duke up by 5 and placed a lot of pressure on Wake Forest to score. Instead, they turned the ball over and Liston got fouled going to the hoop.
Ramifications: Losing Gray has seismic ramifications for Duke. The Devils will probably still be able to win the ACC regular season title (two game lead over Maryland with four games left; UNC lost today to fall three games behind Duke), but the ACC tournament and NCAA tournament remain big question marks. How much will the NCAA committee downgrade Duke without Gray? That answer will depend on how Duke handles the three ranked teams remaining on their schedule in the regular season, as well as potential matchups with the same in the ACC tournament. For Wake, this game shows that several teams with losing records in the ACC can give even the top teams trouble on any given night. Wake always comes to Greensboro ready to play and this year should be no exception.
DWHoops Photos by Orin Day
Over 100 public photos are below, with many more exclusive photos for Digest members. A gallery with a Duke focus is available at DWHoops.com.

Link to this Photo
Looking good in their Play4Kay gear and led by Sandra Garcia and Dearica Hamby, Wake Forest heads to their bench after pregame warmups are done
---
Link to this Photo
Chelsea Gray and Joanne P. McCallie pose at midcourt with a basketball awarded to Gray for scoring her 1000th career point at Duke. Gray would later leave the game with a dislocated knee, putting the rest of her season in doubt.

Duke Tags: #12 Chelsea Gray, Joanne P. McCallie
---
Link to this Photo
Wake Forest looked great in their Nike Kay Yow shoes and socks for the Play4Kay initiative.
---
Support ACC WBB Digest! - Help Fund Our Future Coverage
| | | | | |
| --- | --- | --- | --- | --- |
| | | | | |
---
---
---
---
Support ACC WBB Digest! - Help Fund Our Future Coverage
---
---
Link to this Photo
Duke again leaves the corner open, and Douglas hits her second three in two minutes. 18-9 Deacs with 13:12 left in the half.

WAKE Tags: #5 Chelsea Douglas
---
Link to this Photo
Wake coach Jen Hoover coached without shoes in support of the Samaritan's Feet charity

WAKE Tags: Head Coach Jen Hoover
---
Support ACC WBB Digest! - Help Fund Our Future Coverage
---
Link to this Photo
Wake time out as Duke's on an 11-3 run

WAKE Tags: Head Coach Jen Hoover
---
---
---
Support ACC WBB Digest! - Help Fund Our Future Coverage
---
---
Link to this Photo
Hamby came over Gray's back on the offensive rebound, and Gray's right foot landed on Hamby's left

Duke Tags: #12 Chelsea Gray

WAKE Tags: #25 Dearica Hamby
---
---
Support ACC WBB Digest! - Help Fund Our Future Coverage
---
---
Link to this Photo
Hamby tries to tie it up, but misses the jumper

WAKE Tags: #25 Dearica Hamby
---
Link to this Photo
Chelsea Douglas for two cuts Duke's lead to five

WAKE Tags: #5 Chelsea Douglas
---
Support ACC WBB Digest! - Help Fund Our Future Coverage
---
---
---
Link to this Photo
Haley Peters fouled in the act with 4 seconds left in the first half. Free throws gave Duke 37-28 advantage at the break.

Duke Tags: #33 Haley Peters

WAKE Tags: #13 Mykala Walker

Link to this Photo
Wake Forest huddles at the start of the first half.

WAKE Tags: Head Coach Jen Hoover
---
Support ACC WBB Digest! - Help Fund Our Future Coverage
| | | | | |
| --- | --- | --- | --- | --- |
| | | | | |
---
---
---
---
Support ACC WBB Digest! - Help Fund Our Future Coverage
---
Link to this Photo
Chelsea Douglas scores the second of back-to-back threes, cutting Duke's lead from 11 to five

WAKE Tags: #5 Chelsea Douglas
---
---
Link to this Photo
Duke D parts for Douglas as she ties the game at 54

WAKE Tags: #5 Chelsea Douglas
---
Support ACC WBB Digest! - Help Fund Our Future Coverage
| | | | | |
| --- | --- | --- | --- | --- |
| | | | | |
---
---
---
---
Support ACC WBB Digest! - Help Fund Our Future Coverage
---
---
Link to this Photo
Key sequence: Wells tries to tie up Douglas

WAKE Tags: #5 Chelsea Douglas
---
Link to this Photo
Key Sequence: Douglas wrests the ball free

WAKE Tags: #5 Chelsea Douglas

Link to this Photo
Key Sequence: On the outlet pass from a nearly tied-up Chelsea Douglas, Lakevia Boykin ties the game at 64

WAKE Tags: #22 Lakevia Boykin
---
Support ACC WBB Digest! - Help Fund Our Future Coverage
---
Link to this Photo
Duke loses Chelsea Douglas, who missed this three, but Wake would board for a tying three from Boykin.

WAKE Tags: #5 Chelsea Douglas
---
Link to this Photo
Jen Hoover calls the Wake defense with a tie game under 3:30

WAKE Tags: #13 Mykala Walker, Head Coach Jen Hoover
---
---
Support ACC WBB Digest! - Help Fund Our Future Coverage
---
Link to this Photo
Boykin, inexplicably all alone, sinks her third three of the game, it's 74-70 Duke with 1:25 left

WAKE Tags: #22 Lakevia Boykin
---
Link to this Photo
Alexis Jones and Tricia Liston combined for six free throws in the final minute as Duke blanked Wake, making a close battle look like something else on the scoreboard.

Duke Tags: #2 Alexis Jones

Link to this Photo
Duke wins 81-70, and in a nice display of sportsmanship, Dearica Hamby is first through the handshake line and finds Chelsea Gray on the Duke bench.

Duke Tags: #12 Chelsea Gray

WAKE Tags: #25 Dearica Hamby
---
Link to this Photo
Chelsea Douglas: "We can score. Our offense is not the problem. It is just that we are inconsistent on the defensive end."

WAKE Tags: #5 Chelsea Douglas
---
Support ACC WBB Digest! - Help Fund Our Future Coverage
---
Link to this Photo
Jen Hoover: "I am so proud of this team today."

WAKE Tags: Head Coach Jen Hoover

Link to this Photo
Coach P on Chelsea Gray's dislocated knee: "...team doctors can't see right now whether there is any ligament damage. We do know she will be out for the regular season regardless of what the MRI shows."

Duke Tags: Joanne P. McCallie

Link to this Photo
Elizabeth Williams: "Anyone can miss shots but defense is a mindset so I tried to get my hand on a lot of balls. Offensively I would post up even harder and try to get to the boards."

Duke Tags: #1 Elizabeth Williams
---
Link to this Photo
Coach P: "Tricia and Elizabeth were so critical for us by doing what they do and doing it with great confidence and poise in a tough situation. I think it was a huge test of our team's resilience and I think we passed it with flying colors"

Duke Tags: Joanne P. McCallie

Link to this Photo
Tricia Liston: "One thing I think we did well was we stayed in our heads. We didn't get out of ourselves. I think our execution down the stretch as well as our poise was really big for us."

Duke Tags: #32 Tricia Liston