By Rob Clough


ACC Standings, Schedule, & Results


---

School
Conf.
Pct.
Total
Pct.
Duke
5-0
1.000
15-0
1.000
North Carolina
5-0
1.000
17-1
.944
Maryland
4-1
.800
13-3
.812
Florida State
3-2
.600
13-3
.812
Miami
3-2
.600
12-4
.750
Virginia
3-2
.600
11-5
.688
Wake Forest
2-2
.500
9-7
.562
Boston College
2-2
.500
8-7
.533
Georgia Tech
1-4
.200
8-8
.500
Virginia Tech
1-4
.200
7-9
.438
NC State
0-5
.000
8-9
.471
Clemson
0-5
.000
4-12
.250

---

Last Week's Results:
Thursday 1/10
Boston College 53, Virginia Tech 46
Duke 82, Clemson 45 DWHoops Coverage
Maryland 84, Miami 62
North Carolina 70, NC State 66
Virginia 62, Georgia Tech 51
Wake Forest 80, Florida State 72
Sunday 1/13
Duke 73, Wake Forest 44
Maryland 74, Virginia Tech 45
North Carolina 79, Georgia Tech 58
Virginia 78, NC State 59
Florida State 86, Miami 65


---

This Week's Schedule
Wednesday 1/16:
Virginia Tech @ Duke, 7:00 p.m. (GoDuke.com)
Thursday, 1/17
Clemson @ Wake Forest, 6:30 p.m. (WakeForestSports.com)
Virginia @ North Carolina, 6:30 p.m. (RSN)
Florida State @ Boston College, 7:00 p.m. (BCEagles.com)
Georgia Tech @ Miami, 7:05 p.m. (HurricaneSports.com)
NC State @ Maryland, 8:30 p.m. (RSN)
Sunday, 1/20
Wake Forest @ Boston College, 1:00 p.m. (RSN)
Miami @ Virginia, 2:00 p.m. (ESPN3)
Florida State @ NC State, 3:00 p.m. (RSN)
Maryland @ Georgia Tech, 3:00 p.m. (ESPN2)
Monday, 1/21
Duke @ Connecticut, 7:00 p.m. (ESPN2)


---

Editor's Note: Our schedule and results are presented in pink in
remembrance of Kay Yow
Parsing The Week's Results: A number of ACC teams picked up a pair of wins in this week's action. ACC co-leaders Duke and UNC both moved to 5-0, though their paths were a bit different. Duke got about twenty-two minutes of resistance from Clemson before a huge run put the Tigers away. Wake Forest hung close for about fourteen minutes before the Devils' defense put the clamps on and broke out to a double-digit lead at the half, a lead that ballooned in the final eight minutes. The hard-luck NC State Wolfpack actually led the Heels for much of their contest before they went cold and the Heels rallied from a 10 point deficit. The Heels hit key free throws down the stretch, which is something they've been able to do all year despite being a poor foul shooting team overall.
Maryland crushed Miami and Virginia Tech (see below) to stay just a game behind the leaders, as Alyssa Thomas continues to rampage through the league. Virginia and Boston College also picked up a couple of wins apiece to thrust themselves into the middle of the pack. The Hoos went to Atlanta and picked up a huge win over Georgia Tech, taking an early 14 point lead and holding on. Then they simply dusted NC State in the game's final ten minutes to win at home. The 19 point margin of victory belies the fact that the game was tied with ten minutes to go. The Hoos went on a 12-0 run and then a 9-3 run to take control, behind Kelsey Wolfe's 24 points and Telia McCall's 15. This was a game where Virginia got players to step up and become more productive against a dangerous opponent. For the Wolfpack, they are now in an 0-5 hole and looking tighter and tighter in each game.
Boston College got great shooting and production from its starters and beat both Clemson and Virginia Tech on the road to square their ACC record at 2-2. The game with the Hokies was a bit of a struggle, but the Eagles took control in the second half. BC blew out Clemson very quickly, leading by 19 at the half and cruising from there. BC is a well-coached team where players have embraced their roles that has earned respect in the ACC. The Hokies continue to get great production from Uju Ugoka and Monet Tellier, but the rest of the roster is mostly just standing around at this point. Clemson is simply outgunned and has too little experienced to compete for forty minutes. The Wolfpack have considerably more talent than BC, Clemson or VT, yet they're in an 0-5 hole. State needs a win of any kind, but with Maryland and FSU coming, they may well go into an 0-7 pit.
Best Win: Florida State 86, Miami 65. FSU righted its ship after losing two in a row by winning all of the hustle categories. They turned 18 Miami turnovers into 29 points and got huge games out of posts Natasha Howard (20 points, 9 rebounds) and Chelsea Davis (13 points, 13 rebounds). Most importantly, they committed only 14 turnovers against an active Miami defense.
Worst Loss: Wake Forest 80, Florida State 72. Everything FSU did well against the U they did poorly against Wake in one of the bigger intraleague upsets to date. The Deacs turned 23 Miami turnovers into 33 points, which is just what the doctor ordered for a team that averages just 66 ppg. Lakevia Boykin could not be stopped by any of FSU's defenders, going off for 34 points. If FSU was feeling cocky against lesser ACC opponents, this game certainly cured them of that attitude.
Trending Up: Maryland. That Alyssa Thomas had 26 points and 18 rebounds in a game is not surprising. What the really great news for Maryland is that frosh Chloe Pavlech & Tierney Pfirman are really starting to round into shape. Pfirman had 11 points, 7 rebounds and 3 assists in the easy win against Virginia Tech and was also part of the defensive effort that held Uju Ugoka in check with just 13 points. In a game where many of her teammates were plagued by foul trouble, Pavlech had 20 points against a Miami team with plenty of good guards, playing a sturdy 35 minutes. Maryland won that game comfortably thanks to her, after a close first half.
Trending Down: Georgia Tech. Things look like they're going to get worse before they get better in the Flats, as the lack of skilled size and overwhelming youth of this squad is leading to loss after loss. The Jackets can't defend (UNC shot 54% against them), can't hang on to the ball (23 turnovers) and can't shoot (32%, 25% from three). The Jackets are having trouble fielding a starting five that can score, defend and rebound, and the result is a sort of lukewarm approximation of each. Tech has played a tough schedule (Duke, UNC, Virginia, Florida State), but they have to start beating some of the middle of the road teams if they want to focus on that glimmer of a postseason chance.
Surprise Player Of The Week: Tie: UNC's "Trigger Twins", Megan Buckland & Brittany Rountree. When the Heels have players who can drain threes, then their "organized chaos" style of play can be highly effective. After an early season slump that saw her relegated to the bench, Rountree has bounced back in a big way, averaging 15 ppg and 3 rpg against NC State and Georgia Tech. Buckland averaged 12 ppg, including 19 against the Jackets. Having interchangeable deadeye shooters on a consistent basis would make things much easier for UNC's post game and running game.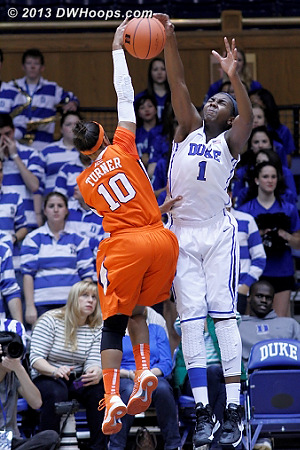 This Elizabeth Williams blocked shot vs. Clemson led to a basket that capped Duke's game-breaking second half run.
DWHoops photo by Orin Day

Stat Of the Week: Anatomy of an All-ACC Player, part 2. Last week, we looked at Alyssa Thomas of Maryland. This week, let's look at the season of Elizabeth Williams of Duke. She's only playing 25 minutes a game while recovering from a slow-healing leg injury. There are days when it's necessary for her to skip practice, but she's starting to regain her sense of balance and touch. Currently, she's averaging 15.5 ppg (#6 in the ACC), 6.4 rpg (#16), 57% FG (#4), 3.3 bpg (#1), and 3.7 offensive rebounds (#3). While she doesn't have the lift she possessed last year, she's actually a far more efficient offensive player. It helps that she clicks so well with her point guard Chelsea Gray, but Williams is doing a far better job of making herself an available target this season. Defensively, she's a game-changer, capable of disrupting entire offenses by herself. How she responds against the elite posts in the ACC this season will determine her ultimate candidacy for ACC player of the year.

Three Games To Watch (1/16 -1/22/2013):
Wake Forest @ Boston College, 1/20/13. With games scheduled against Clemson and BC, the Deacs have a real chance to move up in the ACC standings this week. Meanwhile, the Eagles are a tough out at home and have a legitimate shot to bring down a team that doesn't have a lot of strengths to challenge BC's weaknesses: size, quickness, and depth.


Miami @ Virginia, 1/20/13. The Canes are still smarting from their beatdown at Florida State and find themselves in a position where they will have to work hard to beat a middling ACC team that is pretty good at home and has the potential to challenge most foes.


Duke @ UConn, 1/21/13. Duke has been UConn's punching bag for the last five years. The gap has been closing, though at a somewhat glacial pace. Much of what Duke has been doing this year -- using multiple ballhandlers, developing a scoring punch off the bench -- has been in preparation for UConn's relentless defense and precise offense. The former is more impressive than the latter for this year's Huskies, but it will take a superior effort by the Devils to have a chance of winning.
If you enjoy our weekly Digest, please consider supporting our work with a site membership for just $10. It includes our 49 page league preview and much more. The Digest will return on Wednesday, January 23rd, 2013.