By Rob Clough, Photos by Orin Day



Parsing The Week's Results: The ACC won the ACC-Big Ten challenge once again, in the face of snarky comments about which league Maryland's victory should count for. Snark aside, the Terps pulled out an impressive win on the road against Big Ten foe Nebraska despite Laurin Mincy going down with an ACL tear. With presumptive starting PG Brene Moseley already out for the year, frosh Chloe Pavlech will now get all the minutes she can handle (and maybe more). The Terps won this game because star forward Alyssa Thomas finally played at superstar level (25 points, 5 rebounds, 8 assists). In order to contend in the ACC this year, they'll need her to continue in "god mode". Take their otherwise outstanding effort against UConn, for example. The Terps' frontline was great and the Huskies were misfiring from the perimeter. However, Thomas was just 2-12 from the floor and had 8 of the Terps 26 turnovers. That's just not going to get it done against real opponents. Three other ACC teams secured challenge wins on the road: Duke (who pulled away from Michigan after the Wolverines' patient approach brought them within 3 at the half), Florida State (who impressively pulled away from a tough Iowa club thanks to a career-high 28 points from Leo Rodriguez) and Virginia (clinching the ACC's win thanks to 25 points from Kelsey Wolfe, the ACC's most improved player).

Miami, UNC and Virginia Tech won at home in games that were all upsets. All three wins were needed confidence-builders; see below for more details. Clemson and Boston College actually led their games deep into the second half before folding, and Wake looked respectable before losing to Illinois on the road. Georgia Tech's relative lack of competitiveness against Purdue was a bit disappointing (interior play continues to be a big problem), but not compared to NC State's flop against Michigan State (see below). All told, this was a solid showing for the conference.
Duke's Tricia Liston and Cal's Brittany Boyd clash in Duke's 77-63 win.
(Click photo for DWHoops gallery)
---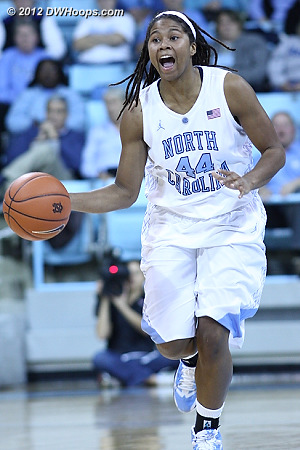 North Carolina's Tierra Ruffin-Pratt led the Heels to a 57-54 victory over Ohio State but was injured in their loss to Tennessee.
(Click photo for our OSU at UNC coverage.)
---
Michigan State overpowered NC State in Raleigh.
(Click photo for our MSU at NCSU coverage.)
---
Joanne P. McCallie's Duke Blue Devils don't lose many home ACC games - they're a perfect 29-0 in Cameron over the past four seasons. They'll look to extend that streak Thursday vs. Georgia Tech.

The biggest news other than the Challenge in terms of positives for the ACC was Boston College's stirring win over Rutgers. Granted, Rutgers is struggling a bit this year, but that's a team stacked with McDonald's All-Americas. It's fitting that senior Kerri Shields scored the winning basket in that game. Clemson and Wake Forest got some desperately needed wins. For the Deacs, they beat up on an overmatched opponent in Charleston Southern. However, it was unclear if the Tigers were ever going to break through. Six games' worth of frustration spilled out in their 87-58 win over Jacksonville, a game where they shot over 50% for the first time all year. We'll see if this is a blip on the radar or a much-needed shot of confidence as the Tigers close out their non-conference schedule. Virginia's loss to West Virginia was dispiriting, as their shooting totally abandoned them after a solid first half. Finally, the other big game for the ACC was #4 Duke beating #10 Cal in Cameron. This was Duke's first real challenge, and the way the Devils got down in the trenches and scrapped for the ball showed that they're ready for better competition.

Best Win: Miami 69, Penn State 65. The U's victory over #6 PSU was a program-affirming win. It's exactly the kind of victory Miami needed to give its current players the confidence to know that they can compete at an elite level without departed All-Americans Shenise Johnson and Riquna Williams. While old reliables Morgan Stroman & Stefanie Yderstrom had solid games, it was soph guard Suriya McGuire who had the go-ahead basket and soph guard Michelle Woods who preserved that lead with a key rebound and free throws. This is also a tremendous victory for Miami's NCAA tournament resume'.

Worst Loss: Tennessee 102, North Carolina 57. A couple of days after the Heels' best win in two seasons (over then #15 Ohio State), UNC came into Knoxville a bit too cocky and carefree. Tennessee was only all too happy to run with the Heels, only they did a better job of finishing shots, keeping turnovers under control and pounding the ball inside. Once the Heels fell behind, they reverted to too much one-on-one hero ball to try and get back into the game, and then stopped trying hard altogether in the second half. This game was a maturity check, especially when team leader Tierra Ruffin-Pratt went out after an injury.

Trending Up: Virginia Tech. Give the Hokies credit They whipped George Washington, won their ACC-Big 10 clash with Wisconsin in an ugly slowdown game, and then blew out Longwood. None of these are great teams, but neither is Virginia Tech, especially as they wait for Uju Ugoka to become eligible. Behind Monet Tellier, who averaged 16 ppg in the three wins, the Hokies have played stifling defense (42 ppg). Now standing at 4-2, VT has just three more games before Ugoka can start playing. The good news is that she has to be less savior than vital piece for a team that can compete at a top 100 level.

Trending Down: NC State. After a disappointing trip to Las Vegas, the Wolfpack flopped at home against a disciplined Michigan State team. Then, needing a win in Baton Rouge, LSU took a big lead on State and it took a late rally for the Pack to avoid being blown out. This Pack team has talent, size and depth, but they have yet to show the desire to play defense on a consistent basis. So far, they've failed just about every significant test put in front of them. It may well take a miracle run in the ACC for Kellie Harper's fourth season to be a successful one.

Surprise Player Of The Week: Nicole Boudreau, Boston College. The lightly-recruited frosh has been a perfect fit for Erik Johnson's system of using bigs who can face up & shoot. She scored 14 points in the huge win against Rutgers, including 4-6 from three. She had 10 points in the narrow loss to Northwestern. Boston College is finding ways to hang in there despite playing four of its starters over thirty minutes a game. Johnson has his players in great shape, but we'll see how long his stars can stay fresh given such a grueling schedule.

Stat Of the Week: -2. That's NC State's turnover margin: 18.7 turnovers committed vs 16.7 turnovers forced a game. That was the story of the Michigan State game in microcosm: State not only didn't put enough pressure on MSU's precision offense, they gave an otherwise methodical team a few easy runouts to help them build a healthy lead. That tiny bit of extra discipline could have made that a much closer game, and given the Pack's considerable offensive talents more chances to operate.

Three Games To Watch (12/5 - 12/11/2012):
Georgia Tech @ Duke (12/6). The Jackets have played a brutal schedule (Tennessee, Georgia, Syracuse, Purdue) but have yet to break through against a ranked opponent. They'll get another shot against a top-five rival in the conference opener for both teams. Look for the guard-oriented Jackets to emulate Cal, pressing Duke in search of turnovers. Duke will try to pound the ball inside and attack the press when it comes.


Virginia @ Maryland (12/6): Another early conference game pits two local rivals looking for answers in different areas. The Hoos are looking for a big-time win against a ranked opponent. The Terps are trying to prove that they can thrive in the absence of two lead guards and just seven healthy regular players overall.


Florida State @ Nebraska (12/8). This is the biggest test to date for a resurgent and undefeated FSU club. If they can handle a tough Husker team at home where they rarely lose, then this will be a sign that the Noles are ready to challenge in the ACC. This is a maturity check for a team that hasn't yet faced a good team on the road.