By Rob Clough, Photos by Orin Day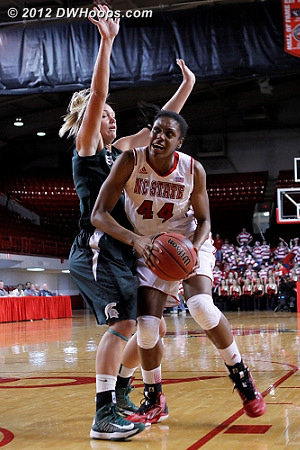 NC State and Kody Burke kept battling all evening, but Michigan State prevailed.
A brutally efficient Michigan State squad trounced a frequently disorganized NC State team that looked a step slow at both ends. The Spartans started out the game on a 23-5 run built on running variations on two different plays on offense. Point guard Jasmine Thomas would penetrate from the baseline or the wing, and then dish to the right corner. That player would either take the shot or else pass it to the wing to an even more open player. They nailed a trio of treys in that manner in the first five minutes of the game. The other play used a high screen to open up a driving lane, and that player either went all the way or passed to a rolling cutter. On defense, MSU used a passive man-to-man that made great use of its length and quickness in getting to help spots on the floor. More to the point, it was a very physical defense that pushed players off their preferred spots. NC State got called for offensive fouls (both moving screens) on their first two possessions, and it looked like they became tentative about contact after that for quite awhile.
NCSU eventually started forcing some turnovers by getting in passing lanes and attacking dribbles and pulled within 7 at the half. They made it 39-38 when MSU coach Suzy Merchant made a tactical change: she had the bigs start to bring up the ball to give a little relief to Thomas. Wolfpack coach Kellie Harper said that her team started rushing shots at that point, and Michigan State took control with a 10-0 run. The Spartans soon pushed that lead up to 19 and were never seriously threatened again. Forward Klarissa Bell had 21 points and 7 rebounds, while Thomas had 16 points, 7 rebounds and 4 assists. Myisha Goodwin-Coleman and Markeisha Gatling had 10 points apiece for the pack.
Why Michigan State Won: They held an 18-4 edge in second chance points on just 10 offensive rebounds. That speaks to their incredible efficiency tonight in turning missed shots into scores.
Why NC State Lost: Stars Marissa Kastanek and Kody Burke combined for 6-22 shooting from the floor. MSU did a great job of cutting off NCSU's stars from connecting passes. The Wolfpack half-court defense was consistently a step slow.
The Game Turned When...: The Spartans went on a 10-0 run after the Pack drew within one point.
X-Factor: Jasmine Hines, Michigan State. The burly post player only had 1 point and 3 rebounds, but she gave MSU 22 crucial minutes off the bench and pushed around State's post players, even ripping a rebound out of another player's hands at one point.
Ramifications: NC State is now 5-3 and was thoroughly outplayed at home in front of a good crowd (2,143). Quality wins will be needed to to preserve the Pack's NCAA Tournament hopes; this weekend's game at LSU will be pivotal in that quest.
---
ACC WBB Digest Photo Gallery
(Digest Members - please log in to see 56 additional member exclusive photos!)

Link to this Photo
Kastanek with Dee Kantner before tip off

NCSU Tags: #23 Marissa Kastanek
---
Link to this Photo
Thomas shot 6-13, with open looks like this

MSU Tags: #1 Jasmine Thomas

Link to this Photo
Gatling takes the floor

NCSU Tags: #23 Marissa Kastanek, #34 Markeisha Gatling
---
Link to this Photo
Mark Simons, now a Michigan State assistant, is well known to Georgia Tech and Duke followers

Link to this Photo
ACCWBBDigest Photo

NCSU Tags: #2 Le'Nique Brown
MSU Tags: #24 Courtney Schiffauer
---
Support ACC WBB Digest! - Help Fund Our Future Coverage
---
---
Link to this Photo
Barrett scores over Thomas during a Wolfpack run

NCSU Tags: #12 Krystal Barrett
MSU Tags: #1 Jasmine Thomas

Link to this Photo
When not shooting open threes, Michigan State got past the NC State defense for layup after layup

NCSU Tags: #23 Marissa Kastanek
MSU Tags: #52 Becca Mills
---
Link to this Photo
A nice twisting move to the goal

NCSU Tags: #12 Krystal Barrett
MSU Tags: #52 Becca Mills
---
Support ACC WBB Digest! - Help Fund Our Future Coverage
---
Link to this Photo
Kastanek and Goodwin-Coleman made back-to-back Wolfpack threes, it was starting to become a game again

NCSU Tags: #1 Myisha Goodwin-Coleman
MSU Tags: #1 Jasmine Thomas

Link to this Photo
Foul on Mills, Burke free throw makes it 32-24 MSU

NCSU Tags: #44 Kody Burke
MSU Tags: #52 Becca Mills
---
Link to this Photo
Pack let Mills get an open look with 30 seconds left in the half, the three extended the Spartan lead to nine

MSU Tags: #52 Becca Mills

Link to this Photo
Gatling was hacked with .8 seconds left, making the halftime margin 39-32 Spartans

NCSU Tags: #34 Markeisha Gatling

Link to this Photo
With the deficit cut to one, Kody Burke relays the defensive signal

NCSU Tags: #44 Kody Burke
---
Link to this Photo
Schiffauer should have been credited with a blocked shot for this stop, she did get the rebound and MSU started to gain separation

NCSU Tags: #12 Krystal Barrett
MSU Tags: #24 Courtney Schiffauer

Link to this Photo
Burke gets a hand check, sees no outlet inside

NCSU Tags: #44 Kody Burke
---
Support ACC WBB Digest! - Help Fund Our Future Coverage
---
Link to this Photo
A 2-11 shooting night for NCSU's star, 0-4 from distance in the second half

NCSU Tags: #23 Marissa Kastanek

Link to this Photo
Bright spot for NC State, Brown draws a charge

NCSU Tags: #2 Le'Nique Brown
MSU Tags: #24 Courtney Schiffauer
---
---
Link to this Photo
All the rebounds seemed to belong to Michigan State

MSU Tags: #21 Klarissa Bell

Link to this Photo
The Pack needed to convert their open looks, didn't

NCSU Tags: #10 Ashley Eli
---
Support ACC WBB Digest! - Help Fund Our Future Coverage
---
Link to this Photo
NC State kept battling

NCSU Tags: #44 Kody Burke
MSU Tags: #24 Courtney Schiffauer

Link to this Photo
Michigan State had four players with 36+ minutes, two played 40, but they remained effective even when tired

MSU Tags: #24 Courtney Schiffauer
---
Link to this Photo
Kastanek drives in the waning minutes

NCSU Tags: #23 Marissa Kastanek
MSU Tags: #52 Becca Mills
---
Link to this Photo
Alma Mater

NCSU Tags: #5 Breezy Williams, #12 Krystal Barrett, #34 Markeisha Gatling
---
Support ACC WBB Digest! - Help Fund Our Future Coverage
---