By Rob Clough

Editor's Note: Welcome to the second entry in our weekly ACC Women's Basketball Digest! We're letting this one out a bit early because of the Big Ten - ACC Challenge, where we're planning to provide photo coverage at UNC and NC State. --Orin

Parsing The Week's Results: This is the week some teams got out of their comfort zones by participating in holiday tournaments. This didn't go so well for Wake Forest (0-3, see below) or NC State (1-2). The Wolfpack dropped a pair of tight games against Florida and UNI in Las Vegas and squeaked one out against Arizona State. The Florida game went right down to the wire and the UNI contest saw State gag up a lead against a squad that did nothing but shoot threes. State has some nice pieces, but they have yet to prove that they want to be a good defensive team. Florida State posted a couple of impressive victories in the San Juan shootout (see below) and have proven to be difficult to guard. Virginia and Georgia Tech both went 1-1 in the same event, with both teams losing squeakers to Syracuse but showing that neither is a pushover.

Meanwhile, Miami and UNC both took it easy by scheduling back-to-back home games against weaker opposition. The Canes easily won their own tournament by beating FAU and Radford, while the Heels had slightly tougher opposition in the face of LaSalle and UNC-Asheville. Both wins allowed the coaches to fine-tune their youngish squads. Boston College split a pair against Sacred Heart (a dangerous mid-major team that beat the Eagles) and Portland. The Eagles ride their starting five for the majority of minutes and shots, but they've earned some wins. Clemson went to SMU's Classic and wound up losing to Montana State and SIU-Edwardsville, which pretty much sums up the state of the program at the moment. Finally, Virginia Tech impressively pounded George Washington as they continue to wait for Uju Ugota to become eligible, while Duke easily dispatched Valpo and Xavier.

Best Win: Virginia 73, Vanderbilt 66. What made this such a great win for the Hoos was that they beat a quality opponent when their best player (Ataira Franklin) was held to just 4 points on 2-5 shooting. Apart from a career game by Jazmin Pitts (see below), Virginia continued to get quality play from frosh forward Sarah Imovbioh (15 points, 6 rebounds) and solid floor play from China Crosby (13 points, 7 assists). The normally defensive-minded Hoos won this game with a powerful offense, shooting 68% in the first half en route to an 11-point first half lead that withstood a mad-bombing Vandy rally. The Hoos then lost a heartbreaker to future ACC foe Syracuse, losing by a single point thanks to a foul called with .4 seconds left. There's no shame in that loss, however, as the undefeated Orange should be ranked next week.

Worst Loss: SIUE 49, Clemson 43. It should be noted that 3-3 SIU-Edwardsville is not a powerhouse and doesn't have close to the kind of talent that the Tigers possess. It was good that the young Tigers rallied from a 14-point deficit in the second half, but they simply shouldn't have been in that position in the first place. Clemson just needs a win of any kind and at this point it's hard to see where that may come, considering the way they're playing. When your three best players are frosh and a soph (Jonquelle Jones, Danejah Grant and Nikki Dixon) and they combine for 12-41 shooting from the floor, it's tough to compete with anyone.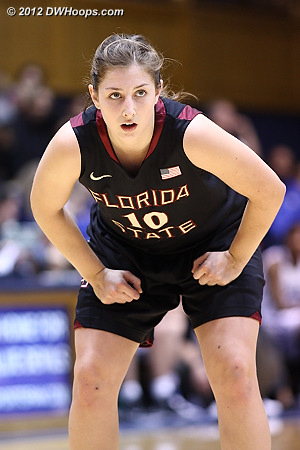 Leonor Rodriguez

Trending Up: Florida State. FSU's unconventional lineup got its first major test against Vandy and passed with flying colors. The 5-0 Noles should move into the top 25 next week, thanks in large part to its dominant guard play. That's not a phrase one would have used in connection with last year's FSU squad, but the electric two-headed point guard combo of Morgan Toles and Yashira Delgado racked up 13 assists against just 4 turnovers vs Vandy. That's allowed old reliables like Alexa Deluzio and ACC Player of the Week Leo Rodriguez (right) to get great looks at the basket (a combined 9-18 from the floor). The Noles are shaping up to win at least 20 games this season, but I'll be curious to see what happens when they go on the road or up against a quality frontcourt.

Trending Down: Wake Forest. As noted last week, the lethal array of opponents in St. Thomas made the Paradise Jam a dicey proposition for a Wake squad still trying to adjust to its new coach. UConn tore the Deacs apart, winning by 60. Purdue blitzed the Deacs early and held off several rallies, as Wake pulled within 1 point several times but could never get over the hump. Purdue pulled away down the stretch. A battered Wake squad was then mauled by a clever Marist team thanks to early hot shooting by the Red Foxes. This game was about pride for both teams, and Wake simply didn't display the energy and discipline needed to win when tired. The one thing this week might do is get the team's attention, but coach Jen Hoover has a lot of work to do.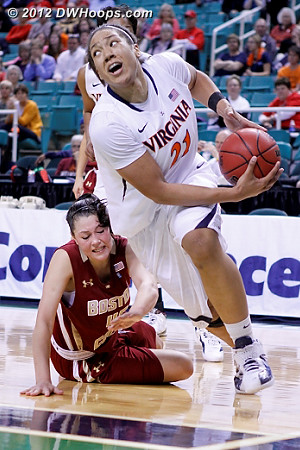 Jazmin Pitts

Surprise Player Of The Week: Jazmin Pitts, Virginia. A player who has occasionally found it hard to get off the bench, Pitts (right) abused Vanderbilt to the tune of a career-high 20 points. She followed that up with a solid 10 point performance the next day in the loss to Syracuse. Getting Pitts actively involved in the offense would be a huge boost for UVa, giving them the kind of quality post depth the team has lacked in recent years.

Stat Of the Week: 32.5%. That's what Duke is allowing opponents to shoot from the three point line, which is the third worst (meaning: highest) mark in the ACC. This is a stat hidden in Duke's otherwise-gaudy start against overmatched competition, and it might be much worse if their foes hit more open shots. Duke's help-and-recover defense in its man-to-man sets has been sluggish at best, as the Devils have had to turn to the matchup zone to pull away early in their games. I'll be curious to see how this plays out against teams with elite shooters.

Three Games To Watch (11/28 - 12/4/2012):
ACC-Big 10 Challenge. This edition of the challenge takes on special significance thanks to Maryland defecting to the Big 10 in a fairly desperate grab for cash. Here's a mini preview for each of the games (* denotes teams outside of Top 25 but receiving votes):



Clemson @ Indiana (11/28). Unless Clemson's frosh suddenly start shooting close to 50%, Indiana will win something like 55-35.


#4 Duke @ Michigan (11/28). If Duke scores over 65 points, chances are the tempo-conscious Wolverines will lose. Duke will probably score over 65 points.


*Georgia Tech @ #14 Purdue (11/28). The intrigue of MaChelle Joseph returning to her old school aside, this will likely be the most entertaining game of the Challenge, as Tech's guards match up with an experienced, tough Boilermaker backcourt.


*Iowa @ *Florida State (11/28). The Hawkeyes just upset West Virginia, but FSU's blend of size, speed and ballhandling will be a bit too much for Iowa.


Northwestern @ Boston College (11/28). The Wildcats are untested at 5-0, and BC's size and shooting potential could make this one an upset for the feisty home team.


#15 Ohio State @ #22 UNC (11/28 ESPN3). If the Heels can cool down Buckeye guard Tayler Hill, then they will win by double digits.


Wisconsin @ Virginia Tech (11/28). This is an up for grabs game between two of the worst teams in their respective conferences; give the slight edge to the home team.


#11 Maryland @ #21 Nebraska (11/28). I'm sure fans of both schools will be chanting "Big Ten" at the end of the game, feeling slightly weird about their new environs. The Huskers are brutally tough at home, and the Terps are still trying to figure out their point guard situation.


Michigan State @ NC State (11/29 ESPN3). Sparty is holding opponents to an absurd 35 ppg, but the Pack have a potent offense. The question is, can NC State defend well enough to win?


#6 Penn State @ *Miami (11/29). The Canes are tough at home, but that won't be enough to stop Maggie Lucas and Alex Bentley.


*Virginia @ Minnesota (11/29). The Hoos probably don't have enough firepower to overcome the Gophers at home, but if they slow down guard Rachel Banham then they have a chance.


Wake Forest @ Illinois (11/29). These are both good bad teams: entertaining with a star or two each, but not capable of hanging with elite opponents. Look for the home team to win here.




#22 UNC @ #16 Tennessee (12/2). Time to see what the Heels are really made of. A win over the Lady Vols would signal that they are legitimate ACC contenders.


#11 Maryland @ #2 UConn (12/4). Maryland is still struggling to find its identity, but they are one of the few teams with the size to challenge UConn, and the Terps historically don't mind playing on the road.
Please join us each Wednesday for the latest edition of the Digest, and don't forget to check out our great 2013 Conference Preview (purchase includes a free annual ACCWBBDigest.com site membership).